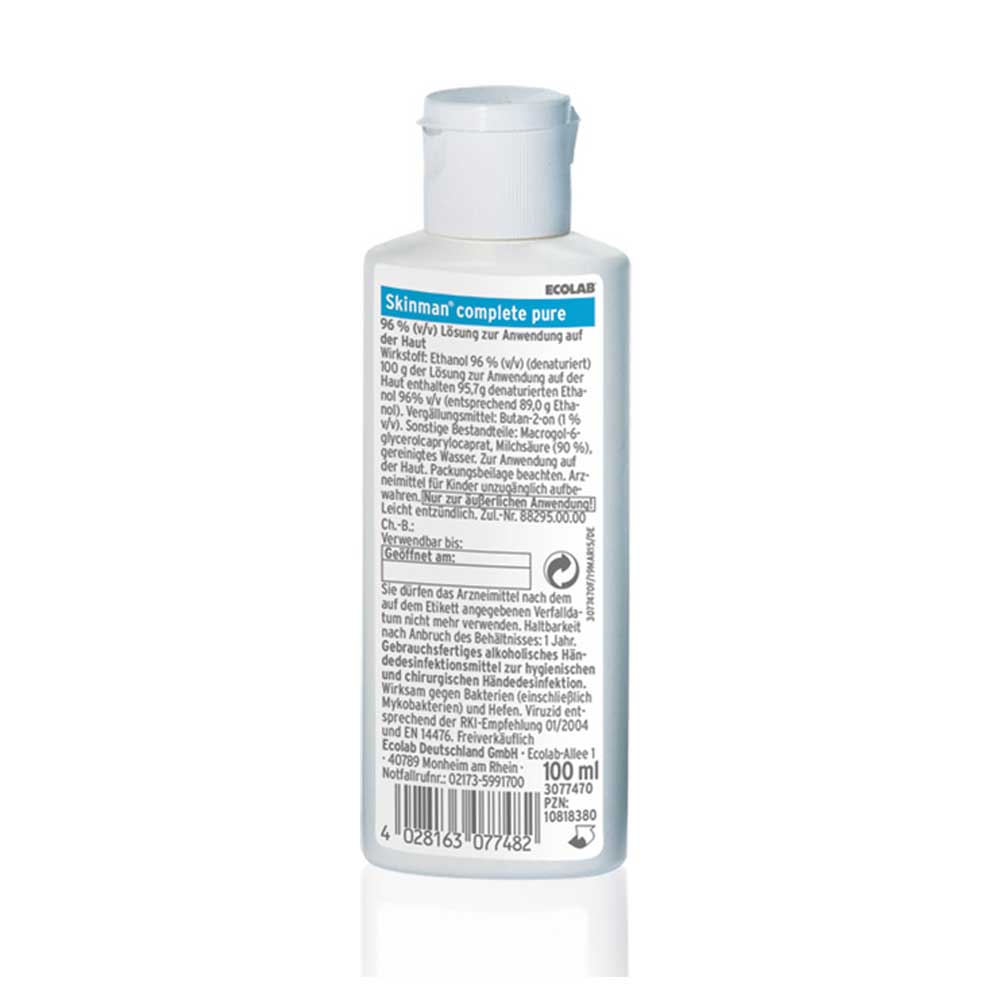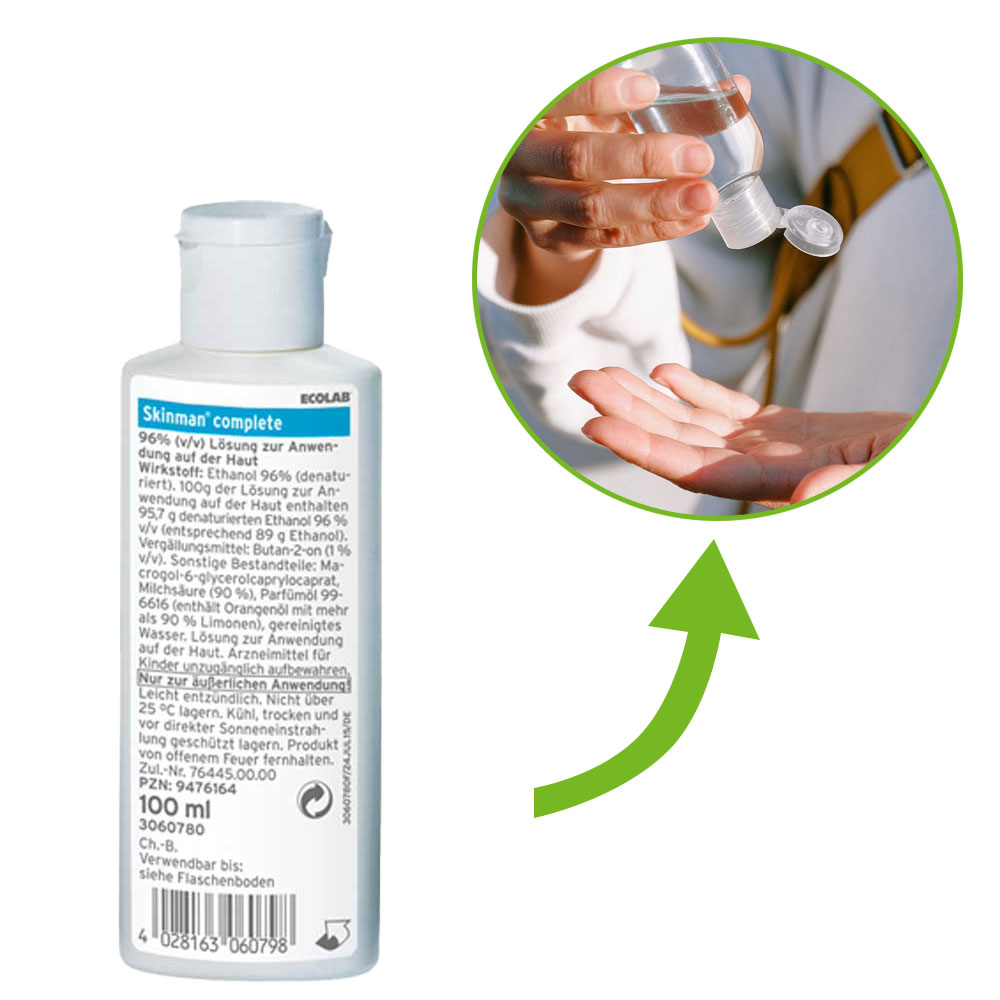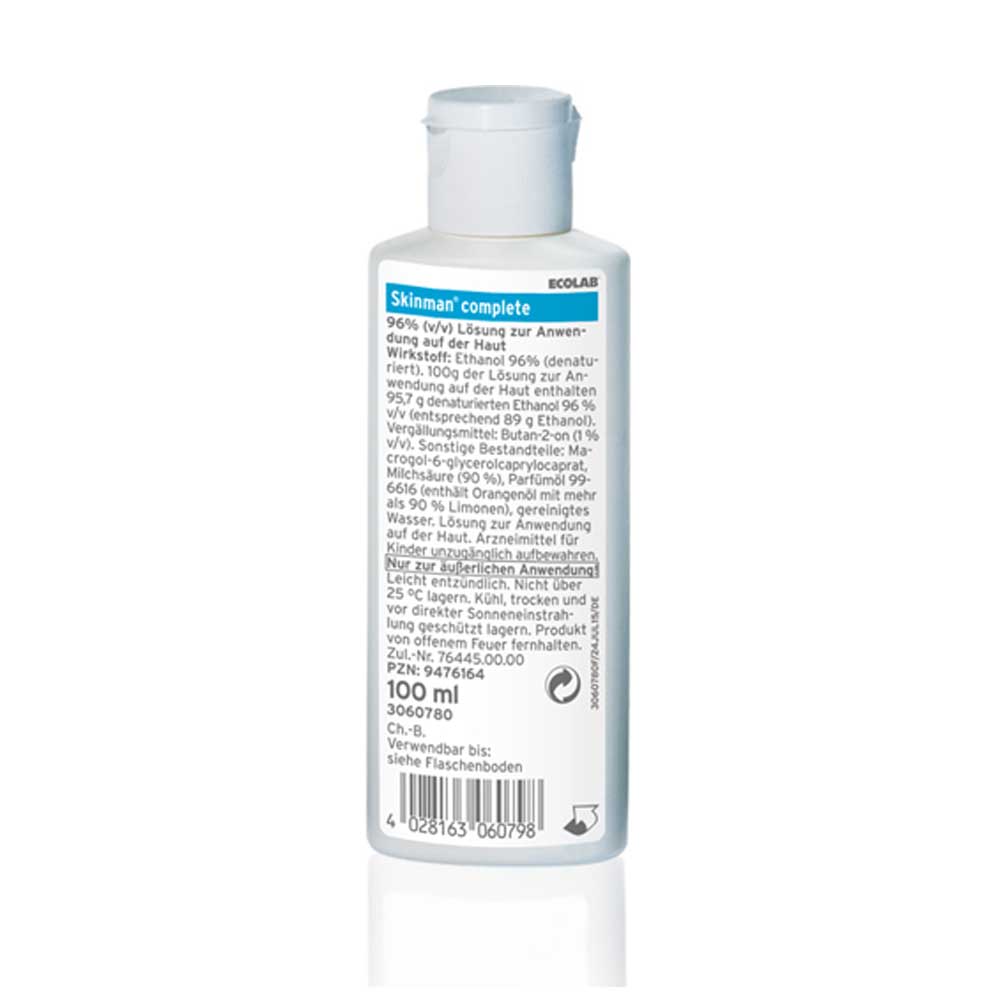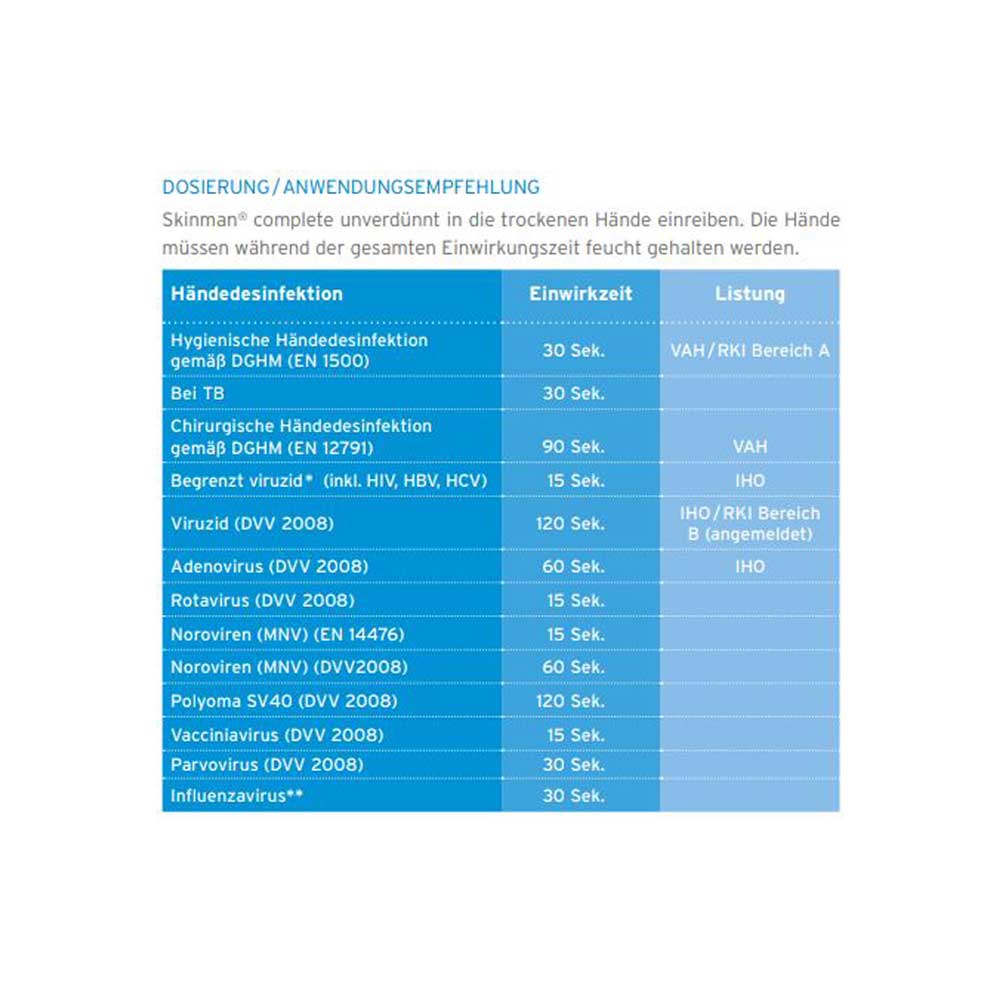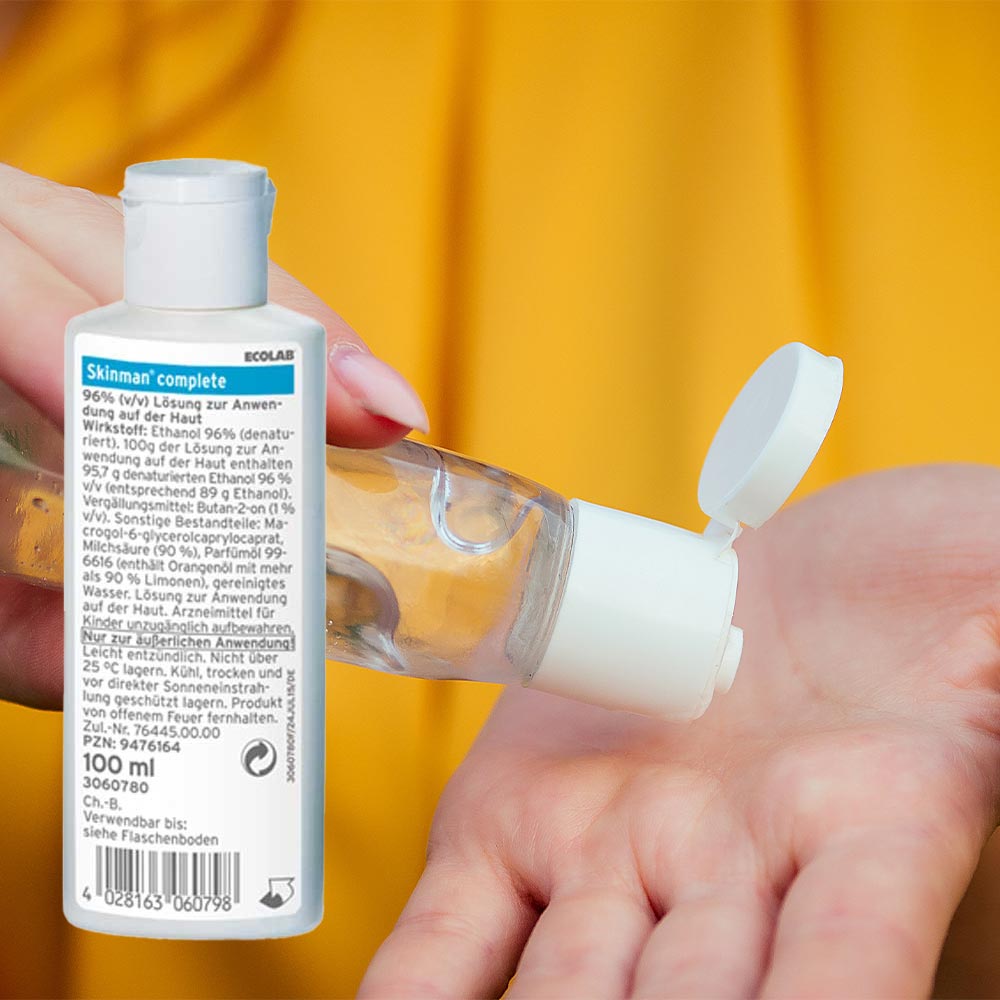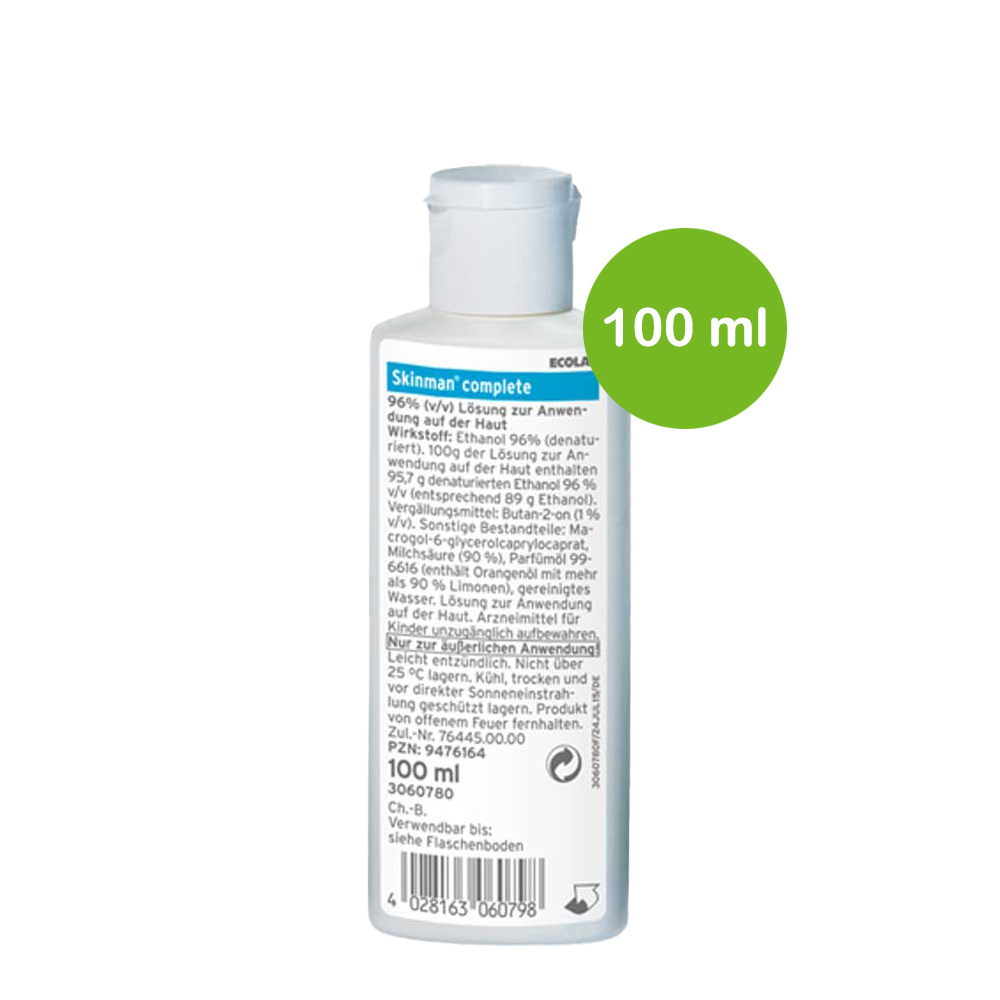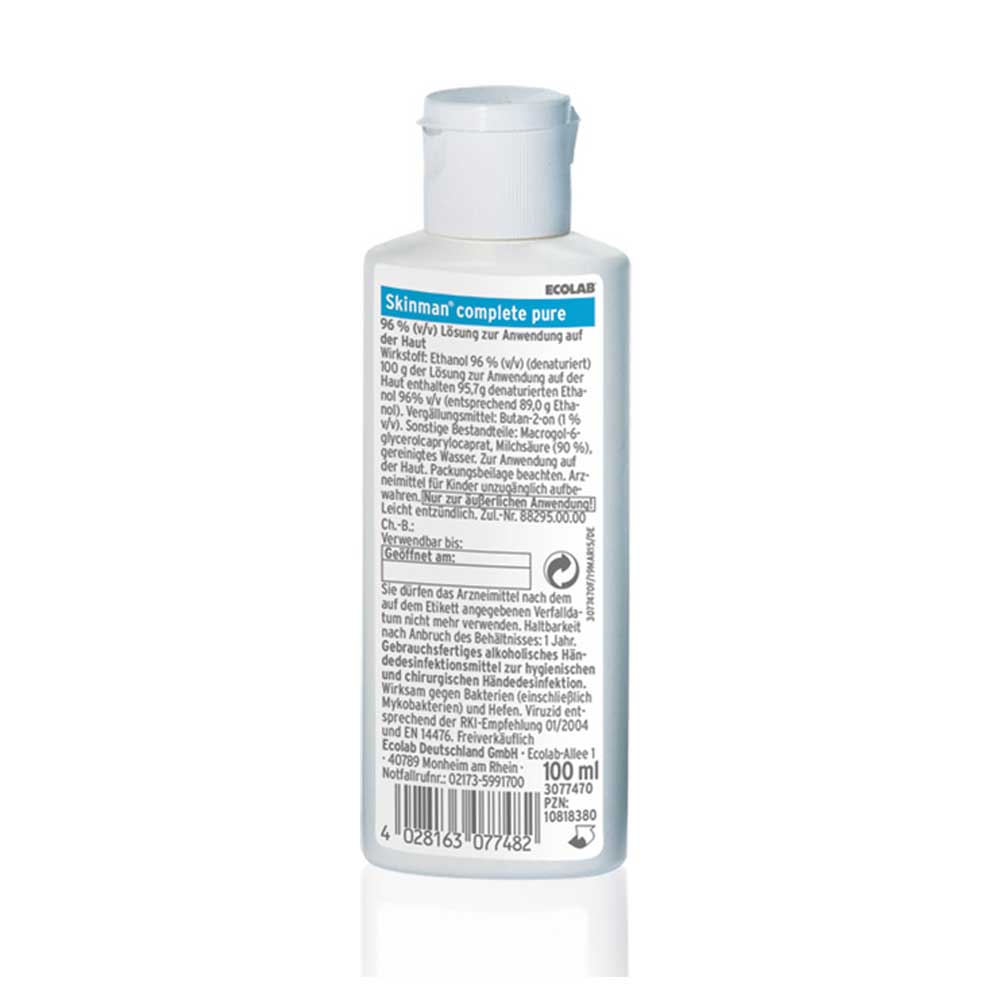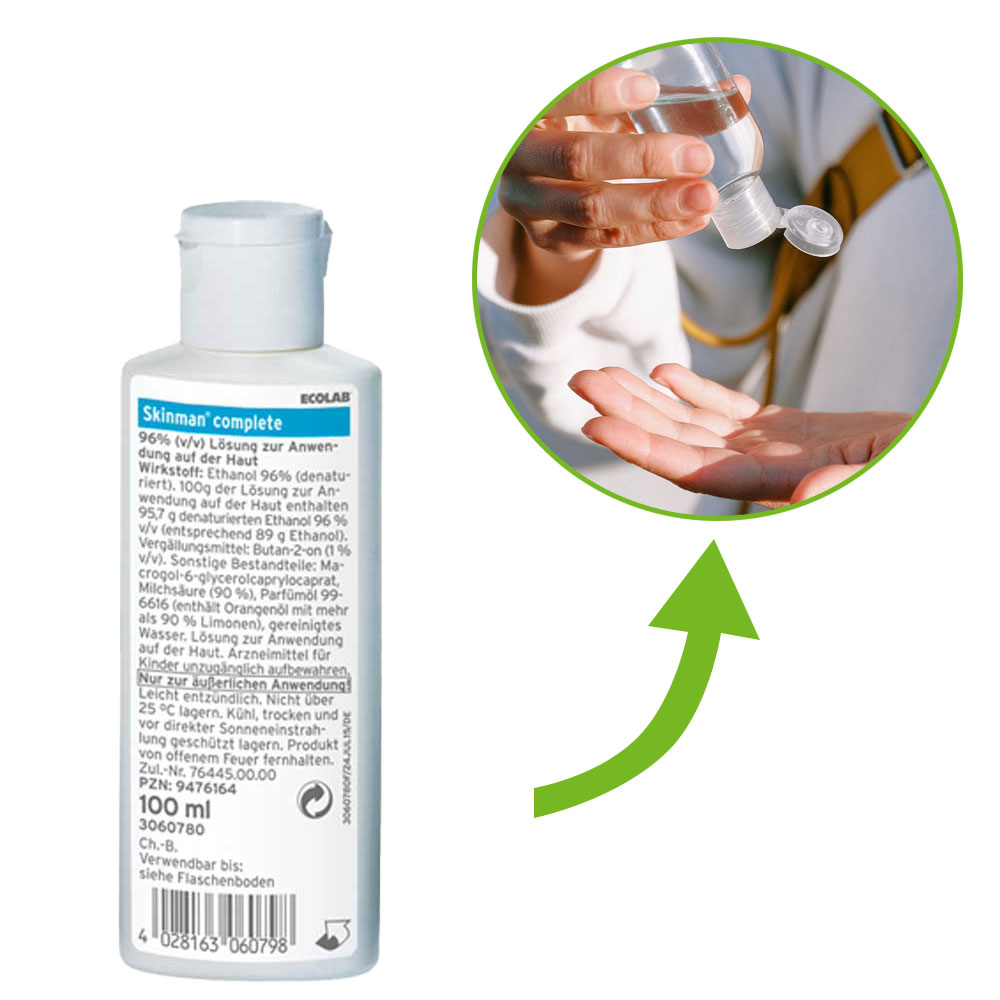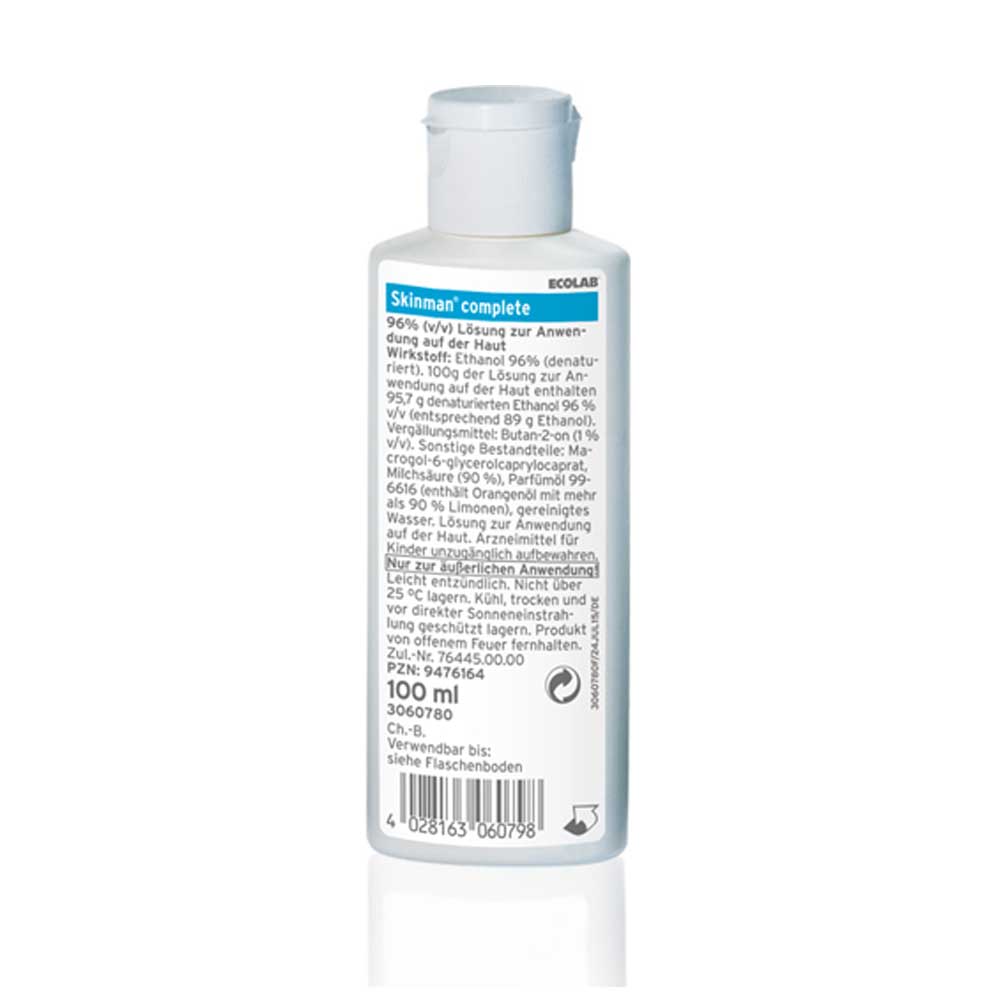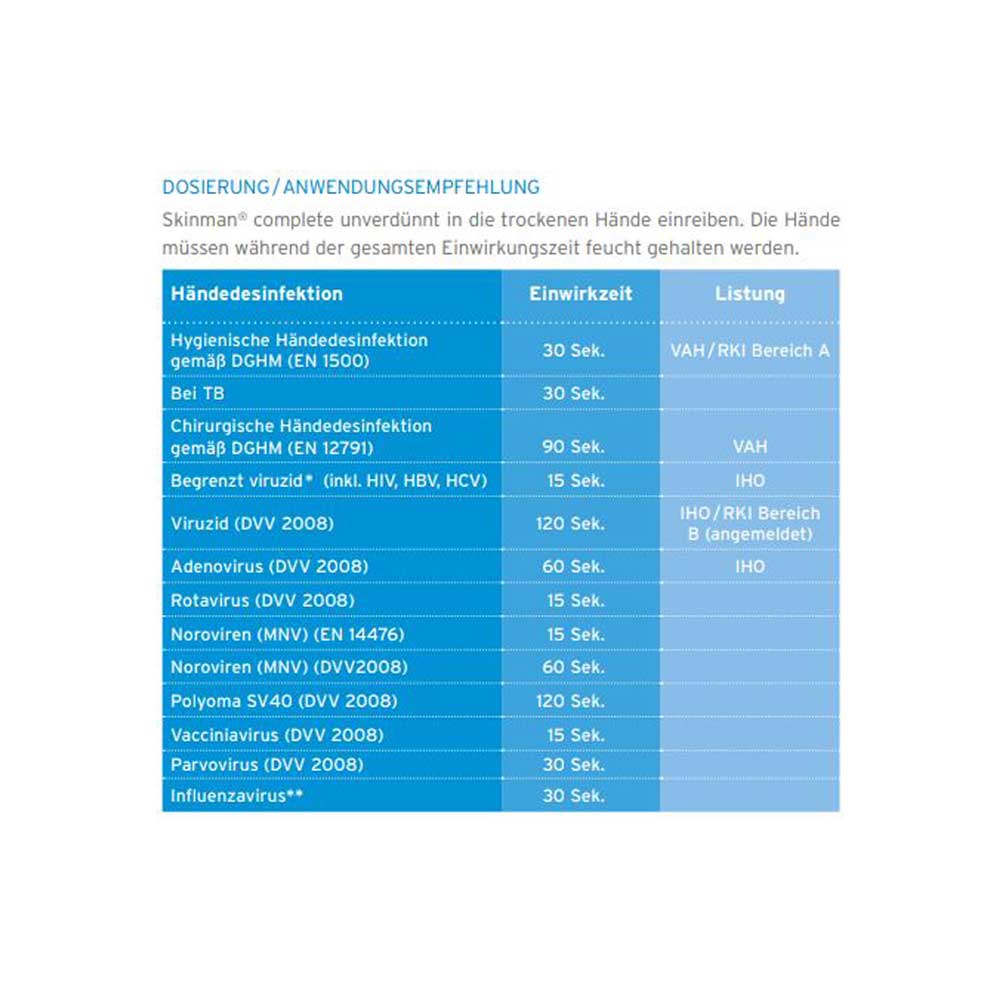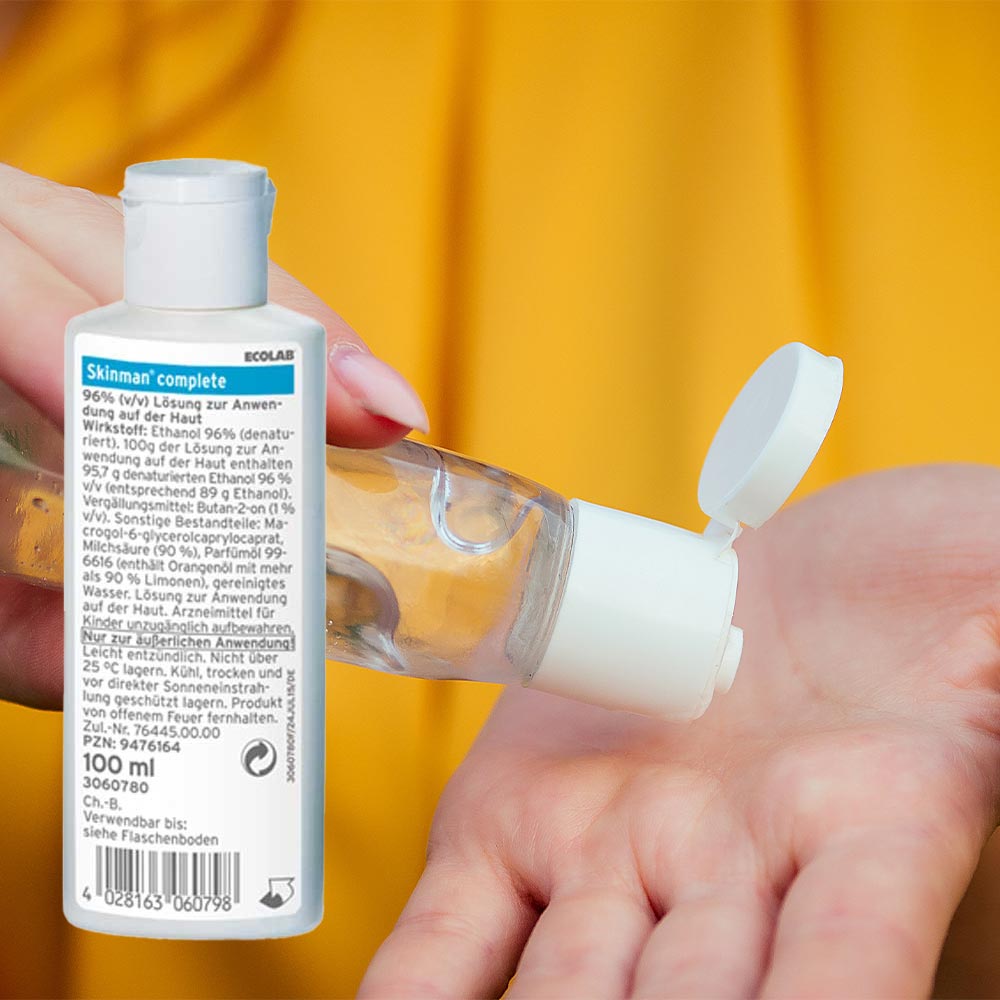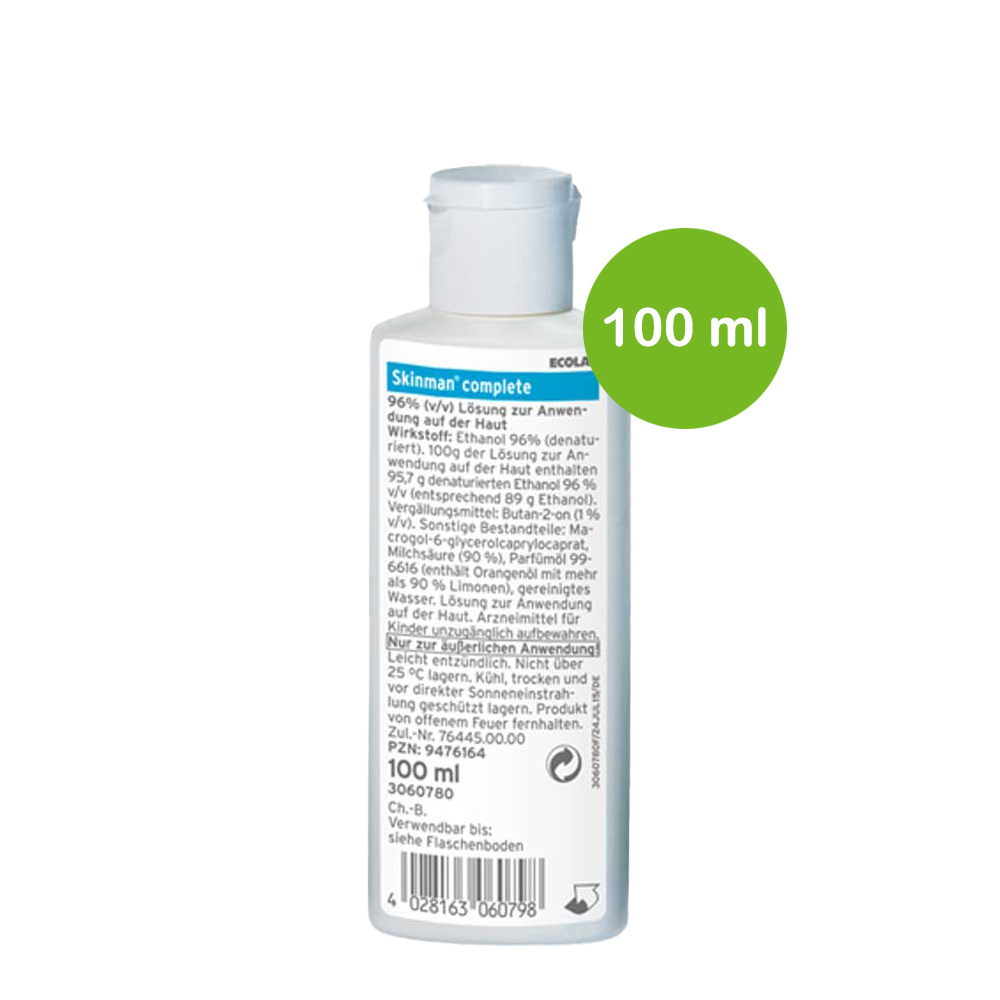 £3.02*
Content:
0.1 L
(£30.16* / 1 L)
Available, delivery time: 1-3 days
Product number:
ECO3077470K-002
Best Advice on Medical Products
Fast Delivery of available products
High quality brands
Purchase on Account
Product details - Hand Disinfection Skinman Complete PURE
Ecolab Skinman™ complete pure is a virucidal hand disinfectant for regular use through the whole year.
Skinman™ complete pure by Ecolab is a hand disinfectant that offers maximal safety against virulent infections by regular use over the course of the year. Even when used regularly, the disinfectant is gentle on the skin. Skinman™ complete pure is free from colorants and perfume and acts virucidal according to RKI. It acts bactericidal (including MRSA and TB), levurocidal and limitedly virucidal against HIV, HBV and HCV. It also is efficient against noro-, adeno- and rotaviruses. For application, rub Skinman™ complete pure unthinned into the dry hands.
The hand disinfectant is available in the sizes 100 ml, 500 ml and 1 liter.
Properties of Skinman™ complete pure
for regular hand disinfection
free from colorants and perfume
skin-friendly
quick-acting
efficient against bacteria and yeasts
efficient against noro-, adeno- and rotaviruses
flammable
available in sizes 100 ml, 500 ml and 1 liter
Important Information
Skinman® complete pure 96% (v/v) solution for application on the skin.
Ingredients: 100 g of the solution contain 95,7 g denaturated ethanol 96% v/v (respective 89,0 g ethanol). Other ingredients are: Denaturants: butan-2-on (1% v/v); macrogol-6-glycerolcaprylocaprat, milk acid (90%), cleaned water.
Areas of application: Skinman® complete pure is an alcoholic disinfectant for hygienic and surgical hand disinfection for adults and children of 12 years or older. It is efficient against bacteria (incl. mykobacteria), yeasts and viruses.
Counter-indications: Don´t use, if allergic against denaturated ethanol or other components. In rare cases, Skinman® complete pure can cause skin irritations like redding or a burning sensation as well as contact allergies. Alcoholic hand disinfectants can dry out the skin and cause skin irritations, especially in low humidity (e.g. in winter).
Safety instructions: Only for external use. Skinman® complete pure is easily flammable (danger of fire and explosions). In case of spilling, following measures are to be taken: collecting the liquid, thinning with lots of water, ventilation of air inside the room and removal of all sources of fire or sparks. Keep product away from open fire. Let product dry before handling electric devices. Take care when using Skinman® complete pure on alcohol-sensitive surfaces. Do not use close to eyes, on wounded skin or on mucosae. In case of contact with eyes or mucosae, immediately rinse with lots of water (in case of eyes also underneath the eyelids). Refilling of the substance must occur under sterile conditions.
Date: 08/2018
Ecolab Deutschland GmbH, Ecolab-Allee 1, 40789 Monheim am Rhein.
Manufacturer "ECO LAB"
The US company Ecolab is one of the largest manufacturers of cleaning agents and disinfectants for medical, industrial and private use. Hygiene and care products for hands and skin are also manufactured by Ecolab. In the Medicalcorner24 you will find an extensive range of products for care, cleaning or disinfection from Ecolab. Including well-known brands such as Skinman, Sekusept and Incidin. Various dispensers and accessories such as dosing pumps or foam pumps are also available.
More articles from ECO LAB to look at
Discover other interesting items!