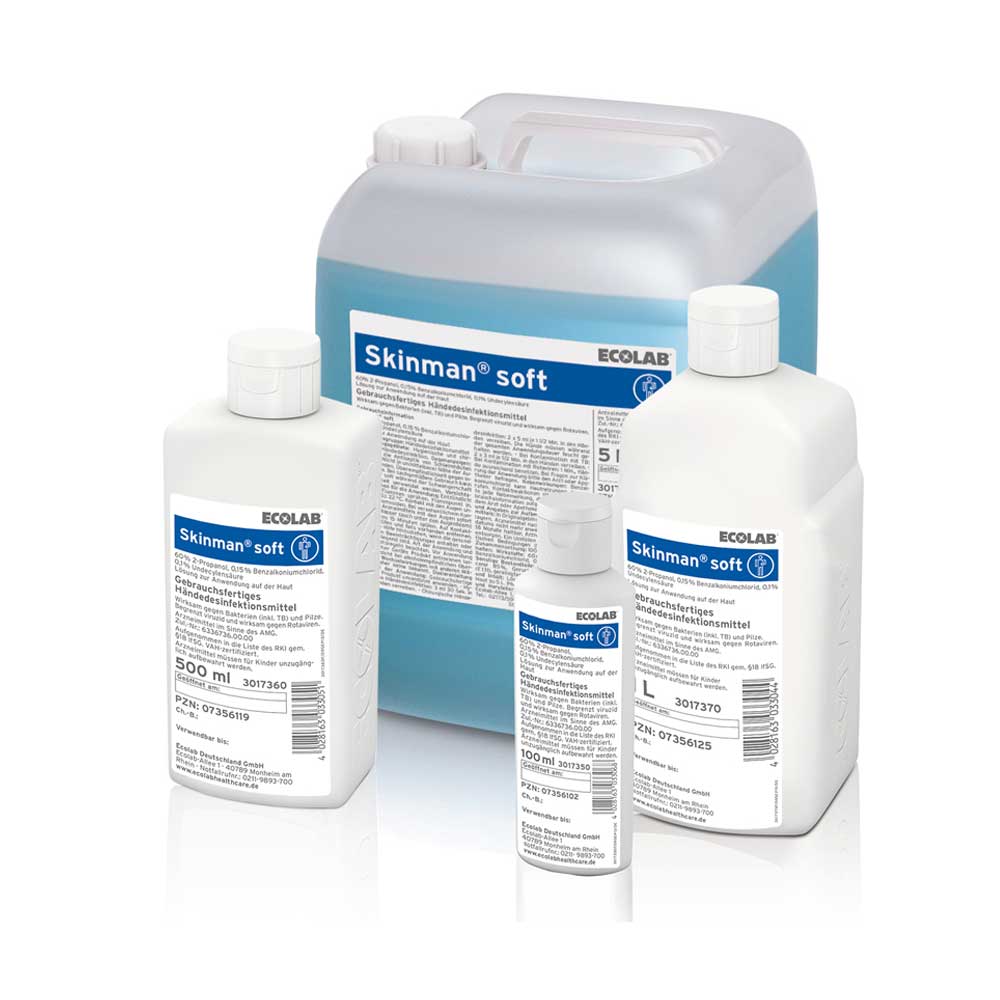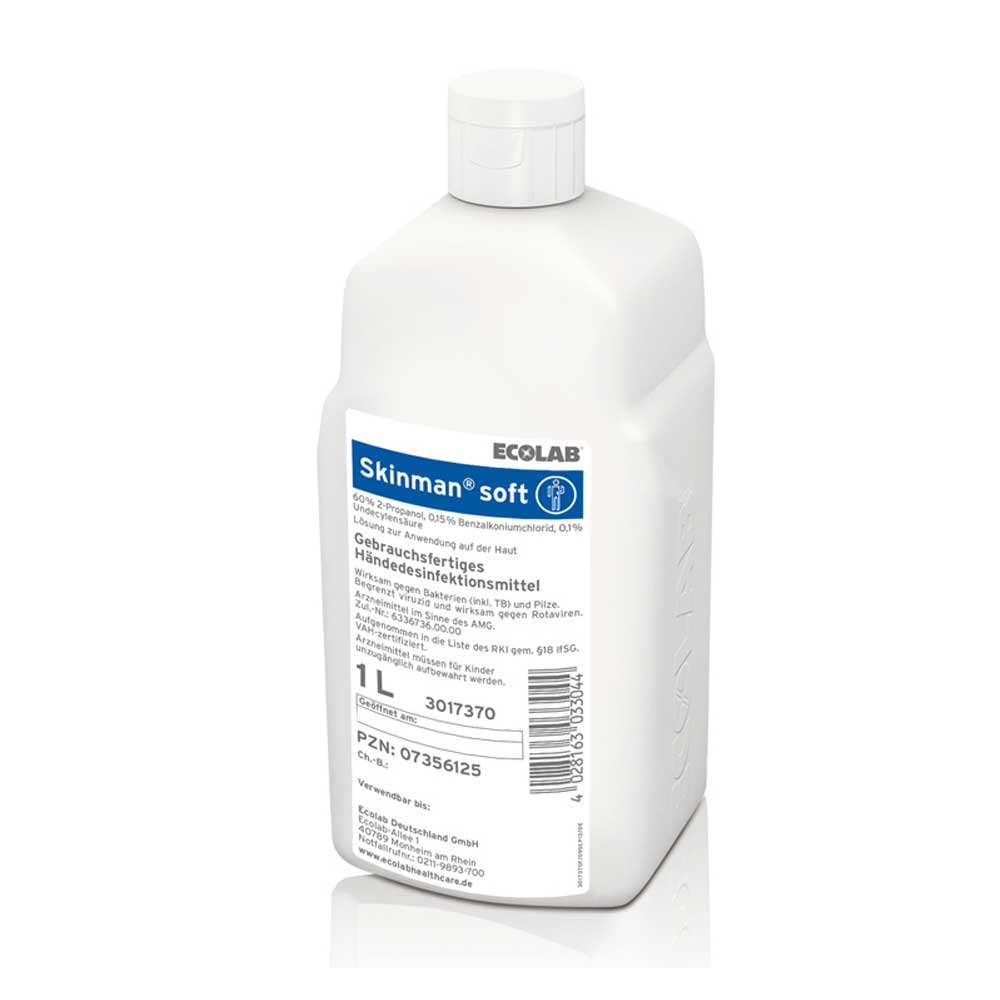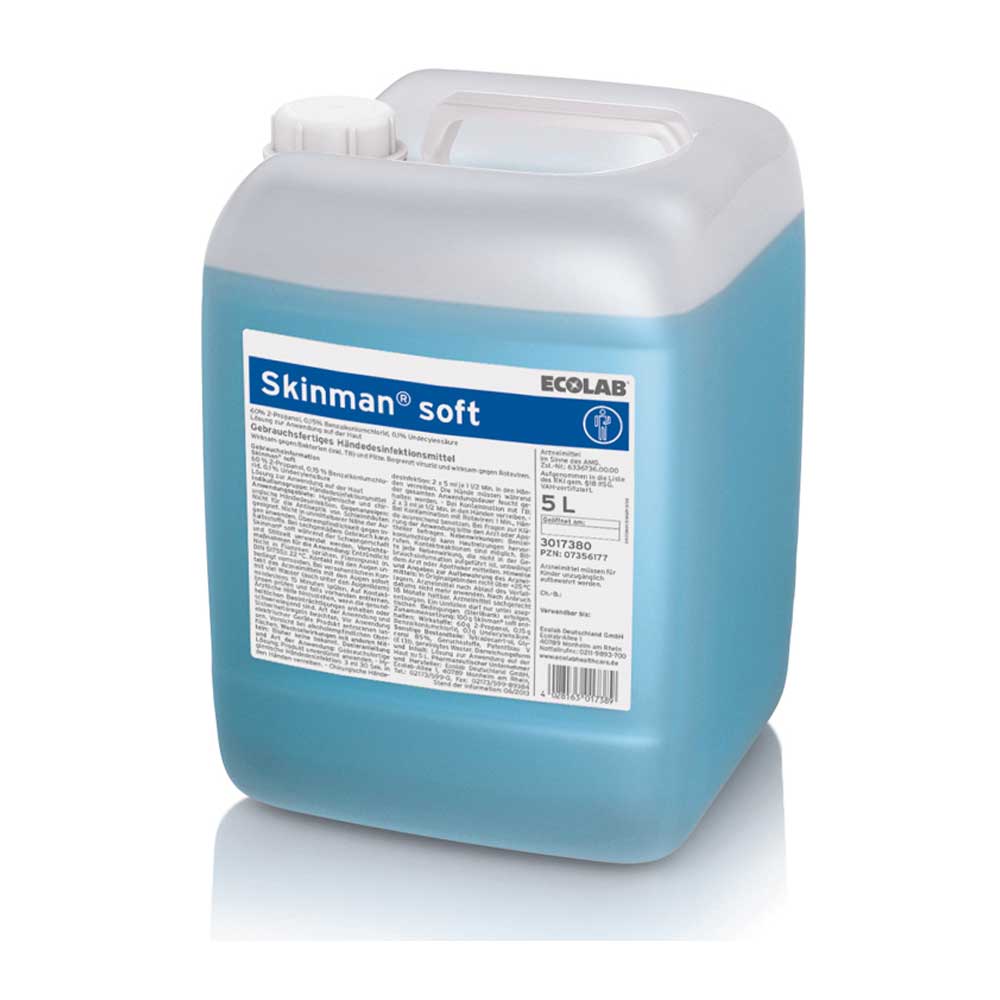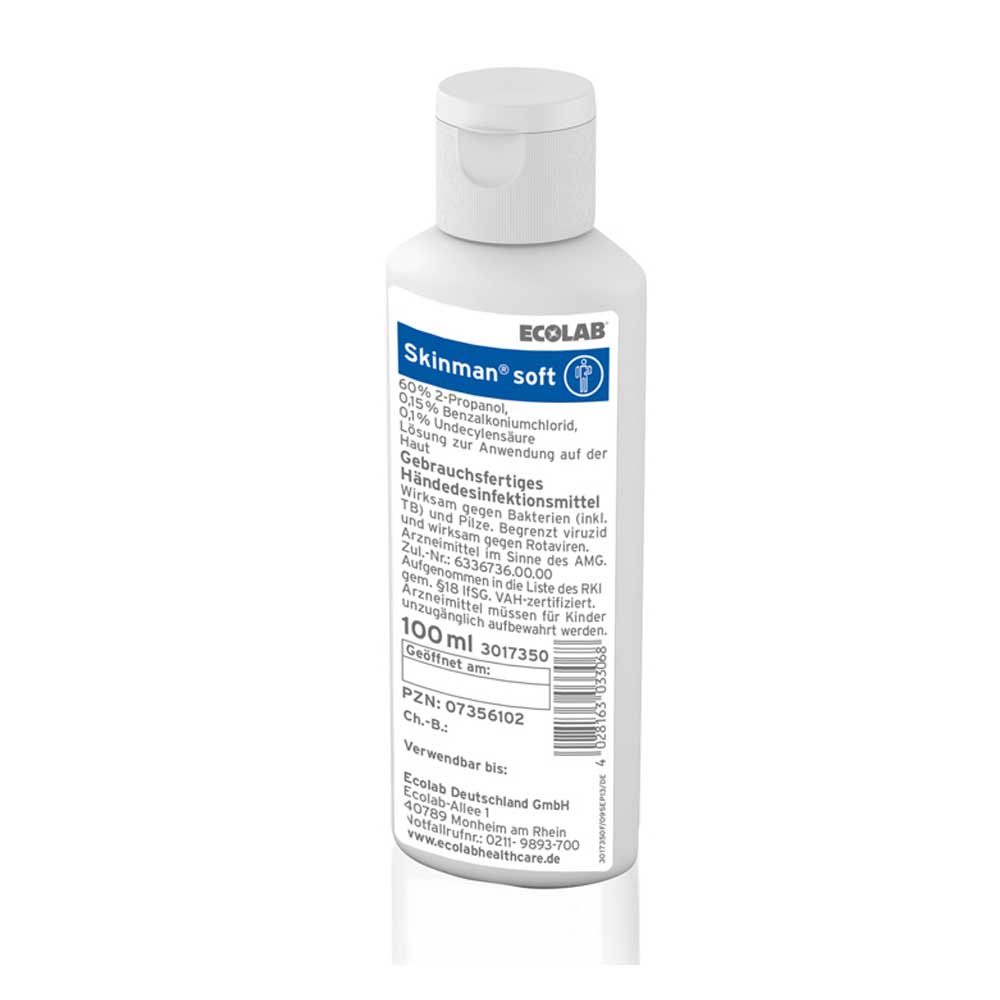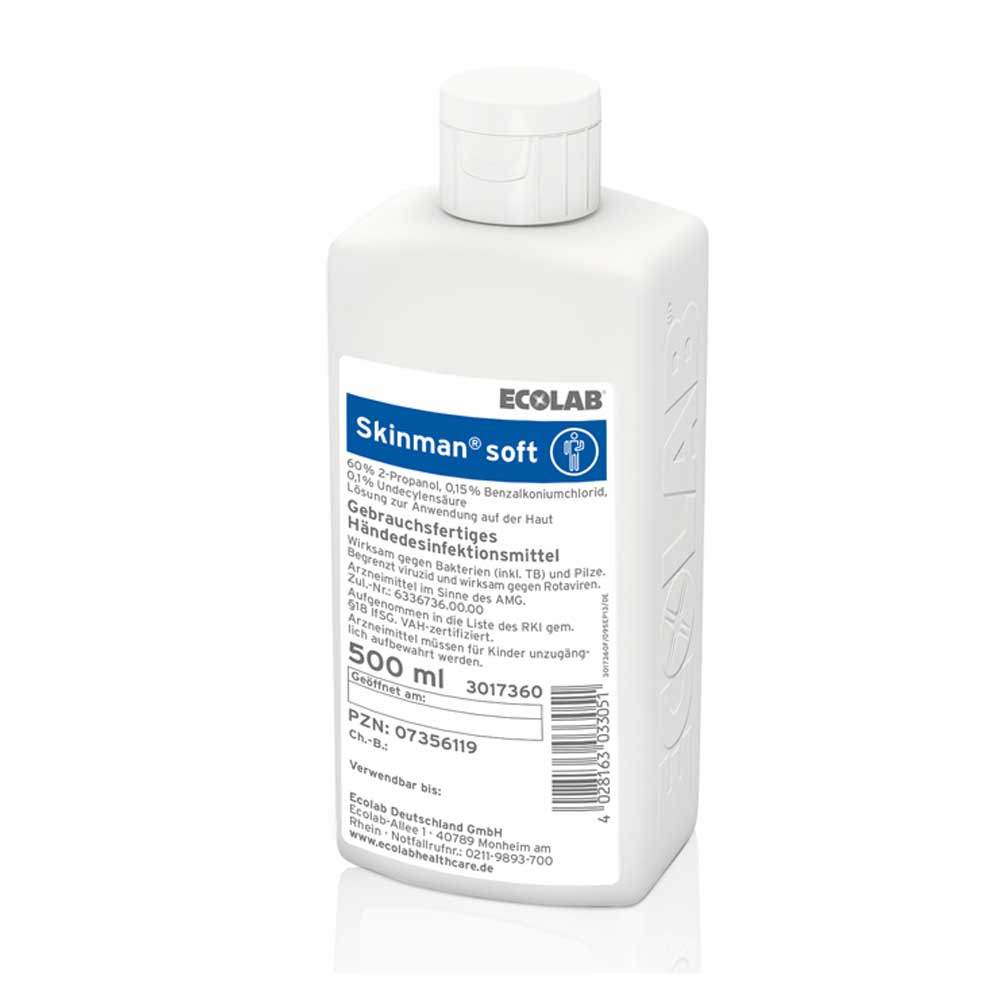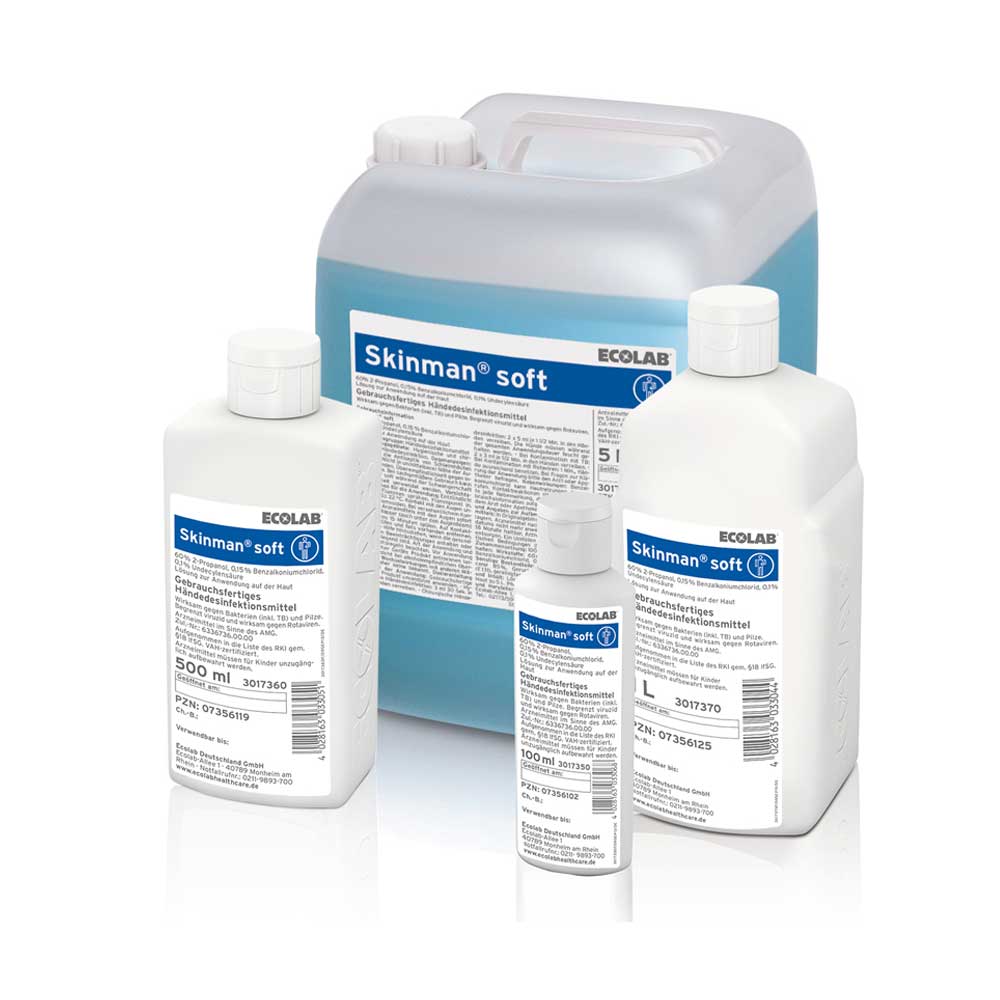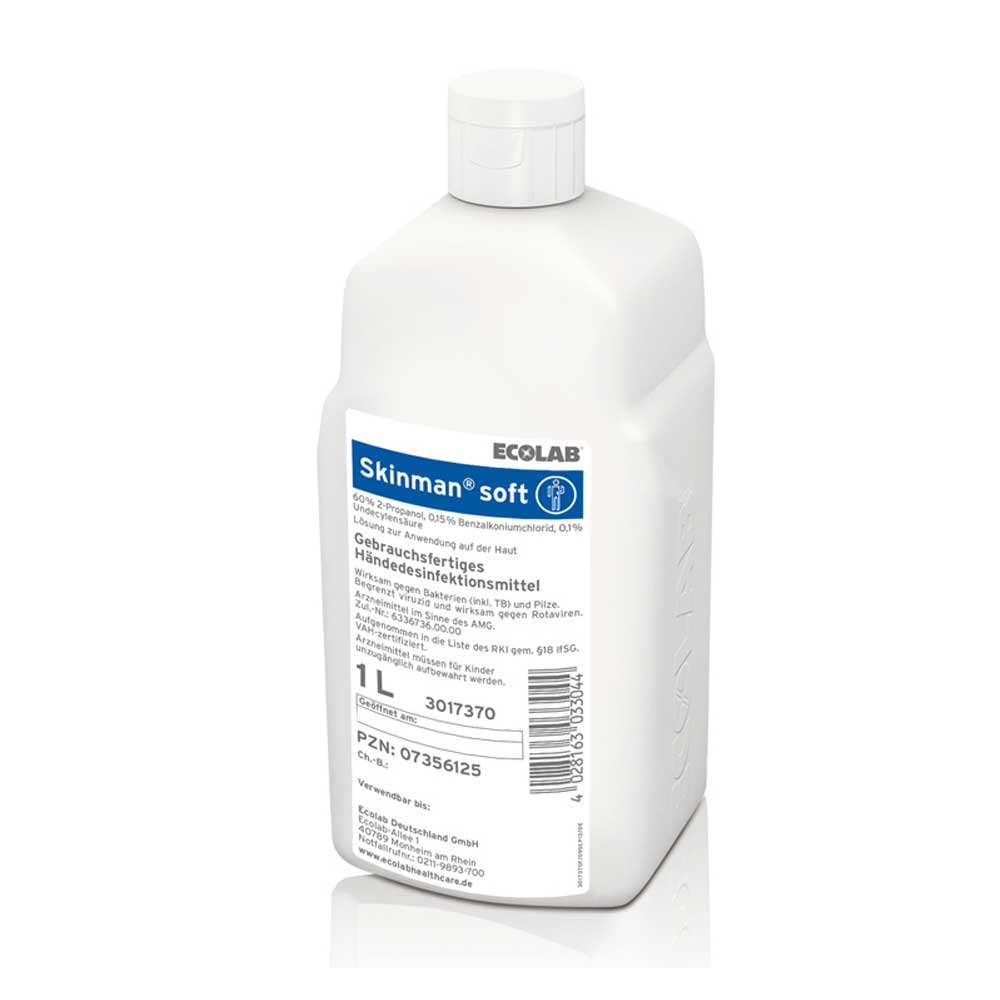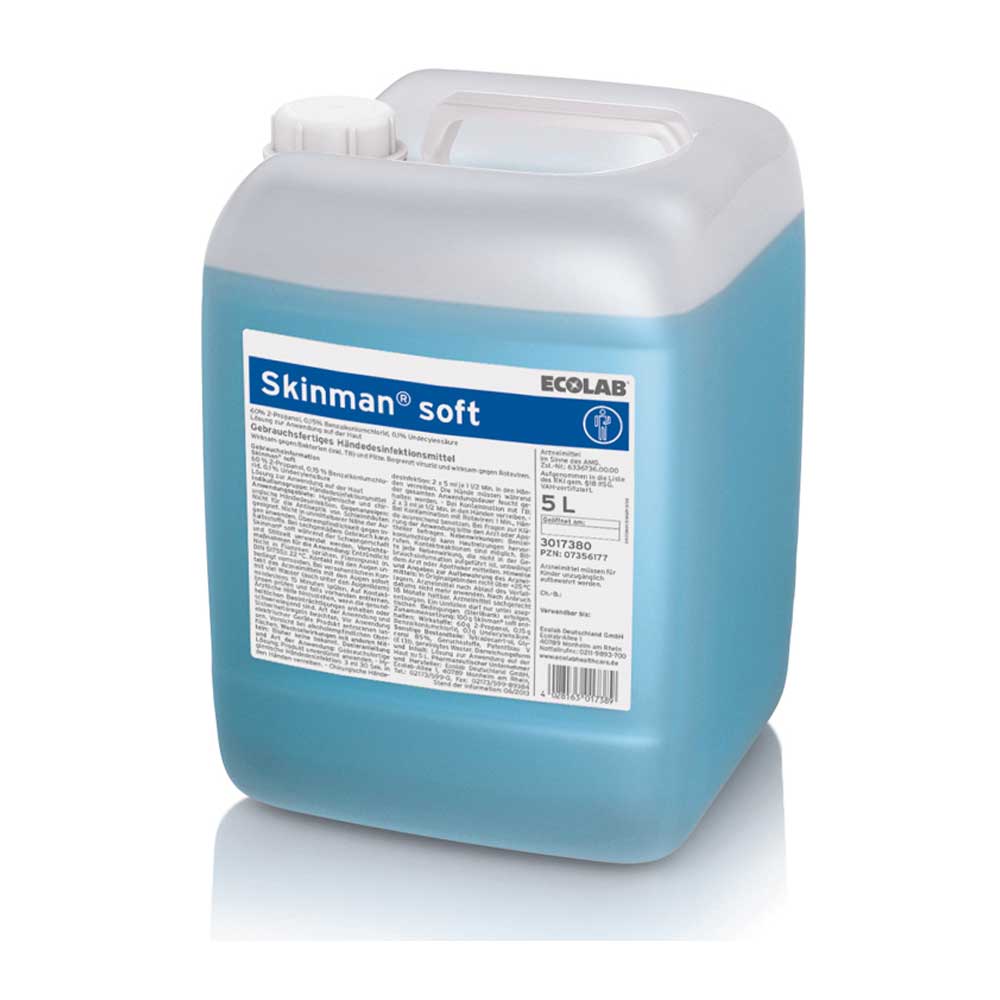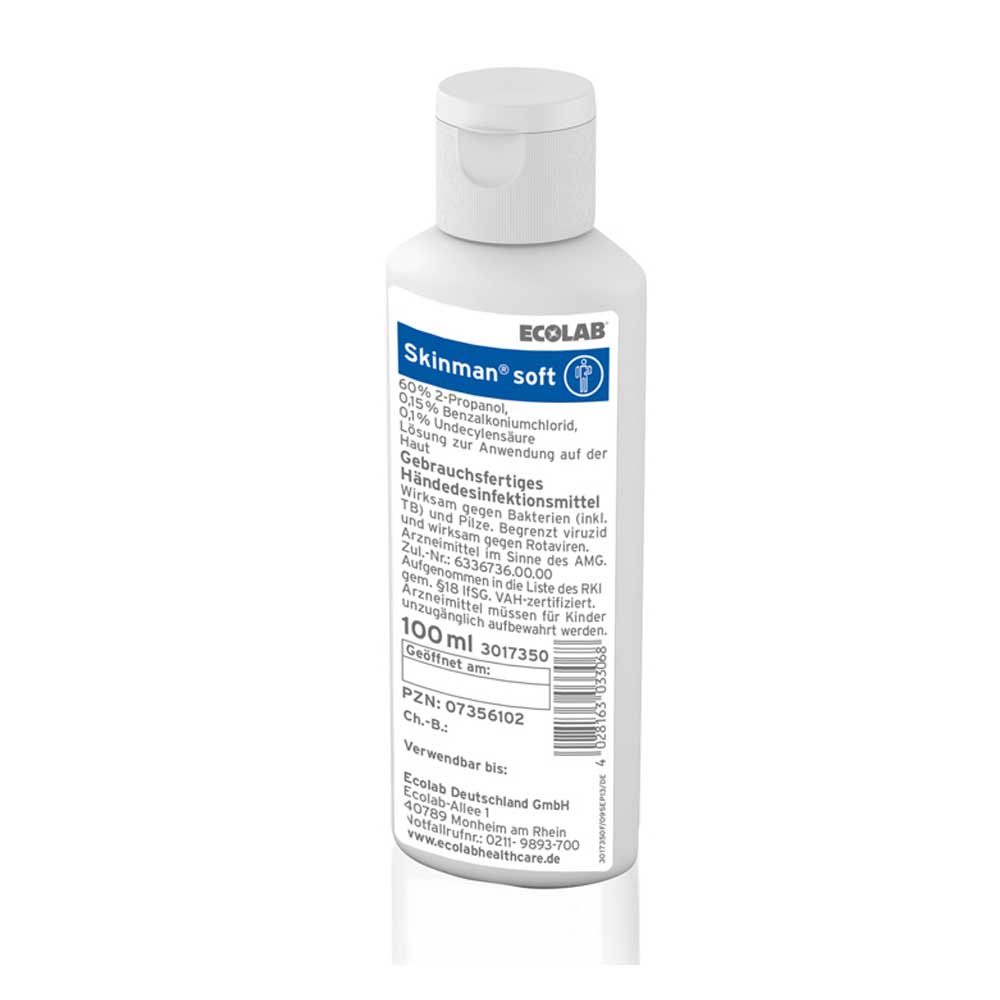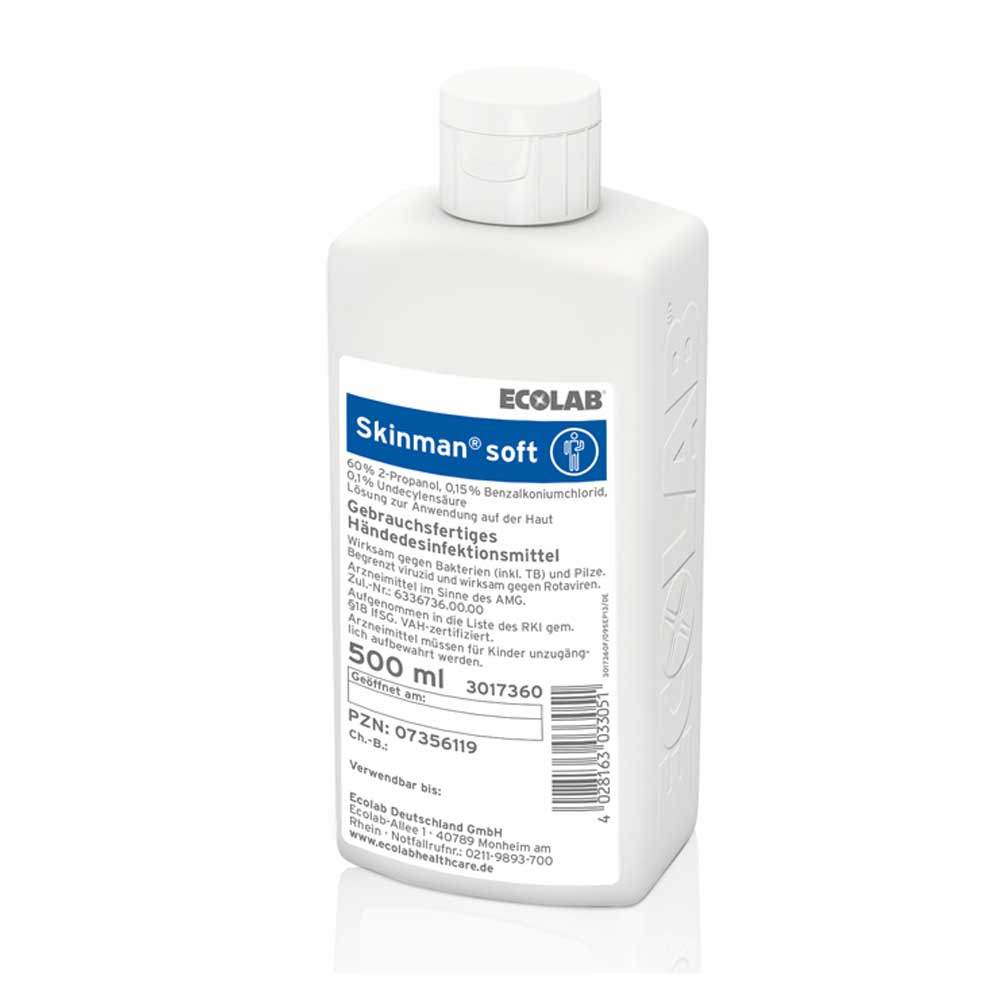 Product number:
ECO3017350K
Best Advice on Medical Products
Fast Delivery of available products
High quality brands
Purchase on Account
Product details - Hand Disinfection Skinman Soft
Ecolab Skinman™ soft is a hand disinfectant for surgical skin-friendly hand disinfection.
Skinman™ soft by Ecolab is a higienic, skin-friendly hand disinfectant combining skin care and disinfection. It is efficient against bacteria and yeasts and limitedly virucidal. Efficiency exists against noro-, adeno- and rotaviruses. The substance can be used for surgical hand disinfection.
Skinman™ soft is available in the sizes 100 ml, 500 ml, 1 liter and 5 liter.
Apply Skinman™ soft only on dry hands. Remove watches and rings. Fingernails are best kept short and without polish. Use as much hand disinfectant as fits into the cup of your hand. Spread the disinfectant across the hands, taking especially great care with fingertips, nails and thumbs. Massage approximately 30 seconds.
Properties of Skinman™ soft
for surgical hand disinfection
skin-friendly
quick-acting
efficient against bacteria and yeasts
efficient against noro-, adeno- and rotaviruses
flammable
available in sizes 100 ml, 500 ml, 1 liter and 5 liter
Important Information
Skinman® soft solution for use on skin.
100 g Skinman® soft contain: agent: 60 g 2-propanol, 0,15 g benzalkonium chloride, 0,1 g undecylenic acid. Other ingredients: tetracedan-1-ol, glycerol 85%, perfumes, patent blue V (E131), cleaned water.
Application: hygienic and surgical hand disinfection.
Counter-indication: Not for antiseptic of mucosae. Do not use close to the eyes or in case of sensitivity against ingredients.
Byeffects: Sometimes, can cause contact irritations.
Safety instructions for application: Flammable! Don´t spray into flames. Flashpoint (accorind to DIN 51755): 22 degrees Celsius. Allow to dry before handling electric devices. Take care with alcohol-sensitive surfaces. Avoid contact with eyes. If contact with eyes occurs, rinse the eyes with lots of water (also underneath the eyelids) – at least for 15 minutes. Check for and remove contact lenses. Contact a doctor, if smptoms are persistent or strong. Always regard the right application method and safety instructions. Lanolin can cause localized skin reactions (e.g. contact dermatitis). Original packages should not be stored at temperatures above 25 degrees Celsius.
Date: 06/2013
Ecolab Deutschland GmbH, Ecolab-Allee 1, 40789 Monheim am Rhein.
Manufacturer "ECO LAB"
The US company Ecolab is one of the largest manufacturers of cleaning agents and disinfectants for medical, industrial and private use. Hygiene and care products for hands and skin are also manufactured by Ecolab. In the Medicalcorner24 you will find an extensive range of products for care, cleaning or disinfection from Ecolab. Including well-known brands such as Skinman, Sekusept and Incidin. Various dispensers and accessories such as dosing pumps or foam pumps are also available.
More articles from ECO LAB to look at
Discover other interesting items!