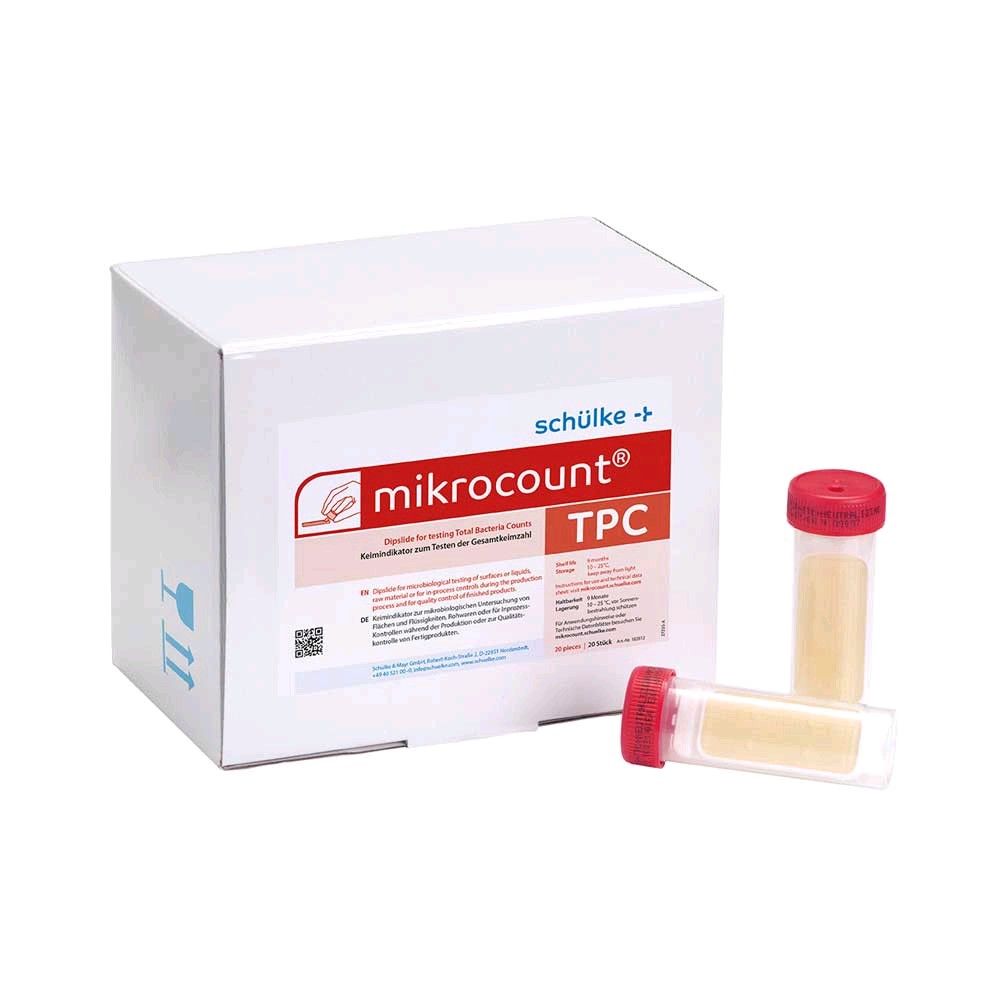 Available, delivery time: 1-3 days
Product number:
SMH-182812
Best Advice on Medical Products
Fast Delivery of available products
High quality brands
Purchase on Account
Product details for mikrocount® TPC agar strips
The agar strips mikrocount® TPC by Schülke, for fast and accurate control of hygiene, are equipped with a practical articulation of surfaces.
Properties of Agar Strips
is a plastic culture medium
provided on both sides with Total Plate Count Agar
simple application
No preparation time
rapid and reliable results (within 24-72 hours)
on examination of surfaces, semi-solid materials and liquids
with practical articulation of surfaces
Agar contains lecithin and Tween 80 as a neutralizing agent for disinfection and preservative
bringing validated results
Cost effective
pH 6.8 to 7.4
GMP meets requirements for cosmetic products
Co reduction: tryptone, Agar-Agar, Tween 80, yeast extract, soy lecithin, Deionized water, D-glucose, ethanol A 94%
Applications from Agar Strips
cosmetics industry
industrial hygiene
Hygiene monitoring of surface disinfection
Food industry
process monitoring
Manufacturer "SCHÜLKE"
The Schülke & Mayr GmbH - also known under the short form Schülke - is an internationally highly regarded manufacturer of disinfectants and cleaning agents. Schülke products are used, for example, to prevent infections in medical practices and hospitals, for industrial hygiene or general everyday hygiene. The Schülke & Mayr GmbH is an important partner of Medicalcorner24® and we have a wide range of Schülke products. Including well-known brands such as Desderman or Desmanol as well as modern dispenser systems for soaps and disinfectants.
More articles from SCHÜLKE to look at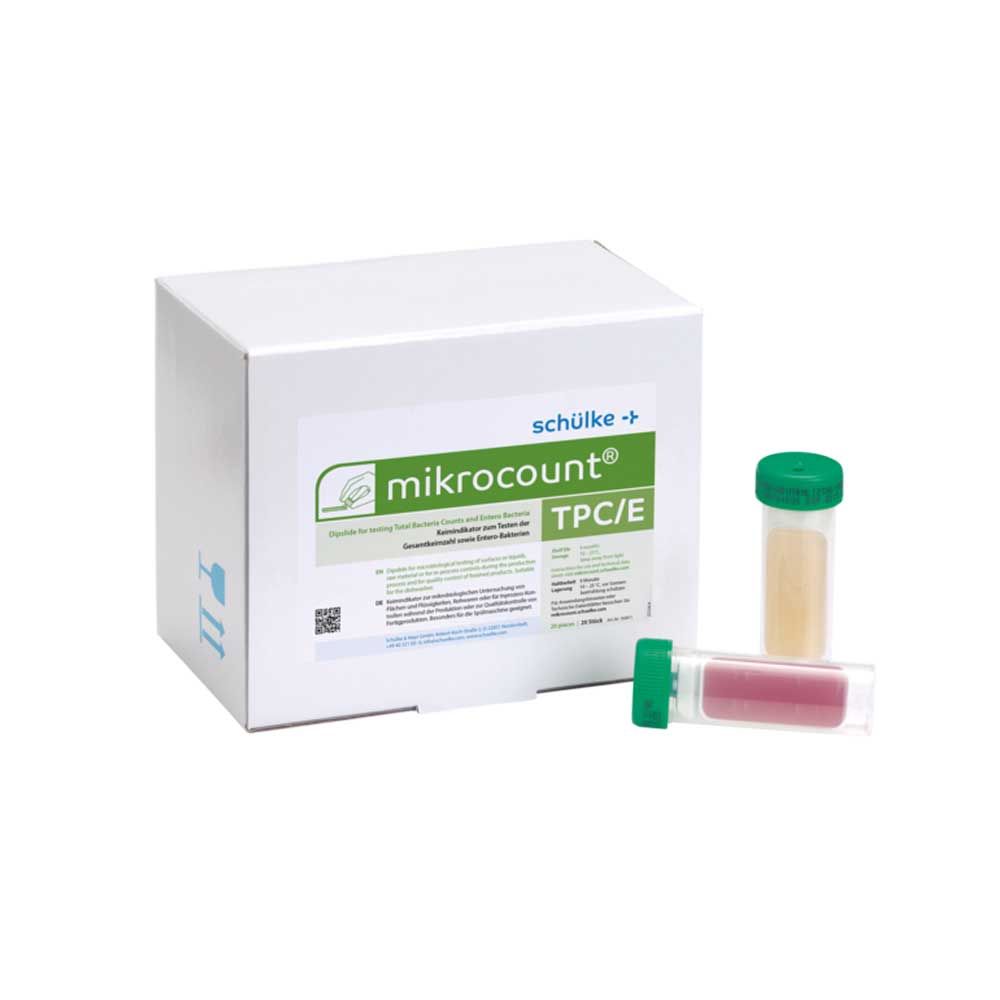 Schülke Microcount® TPC / E Contact Slides, Hygiene Control, 20 pcs
Its field of application lies in the microbiological monitoring of surfaces in hygiene areas or machines such as winding machines. The Kunststoffnährbodenträger, with bilateral agar, have a high sensitivity and can be safely used for increased hygiene requirements.The result can be read very quickly and unequivocally by comparison with an evaluation panel without having to hire a trained staff. But it is also possible to pass on the nutrient media for follow-up examinations.Mikrocount® TPC / E convinces through the combined determination of total germ counts and detection of enterobacteria. The indicators are supplied in break-proof, environmentally friendly and sterile plastic tubes made of polypropylene (without PVC components) with 20 units per box.Properties of Contact Slidesready for useeasy handlingwith articulated joint - use the complete agar surfaceusable on both sidesno preparation timeno trained personnel necessaryeasy reading of the resultResults within 24 - 72 hourssafe in the sterile plastic tube20 h in a boxFields of Application of Contact Slidesfor the examination of surfaces, semi-solid materials and liquidsfor the combined determination of the total germ count and for the detection of enterobacteria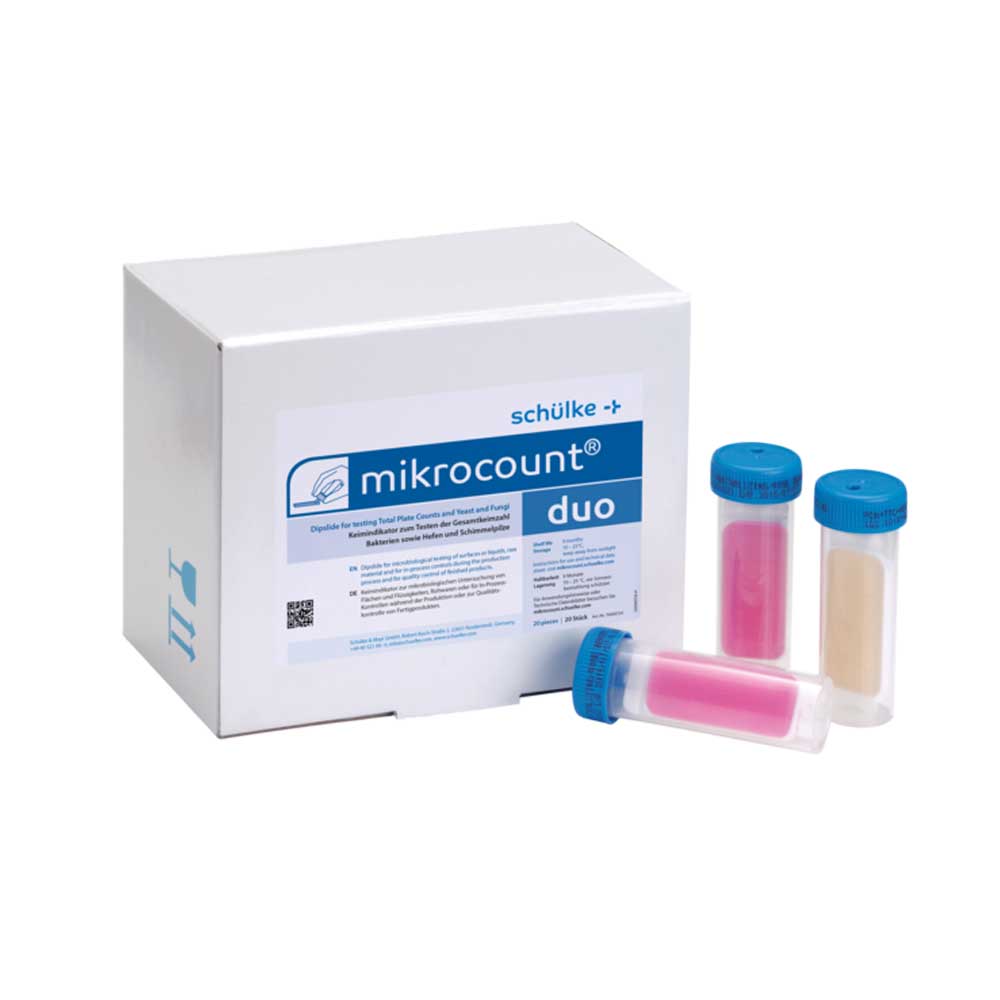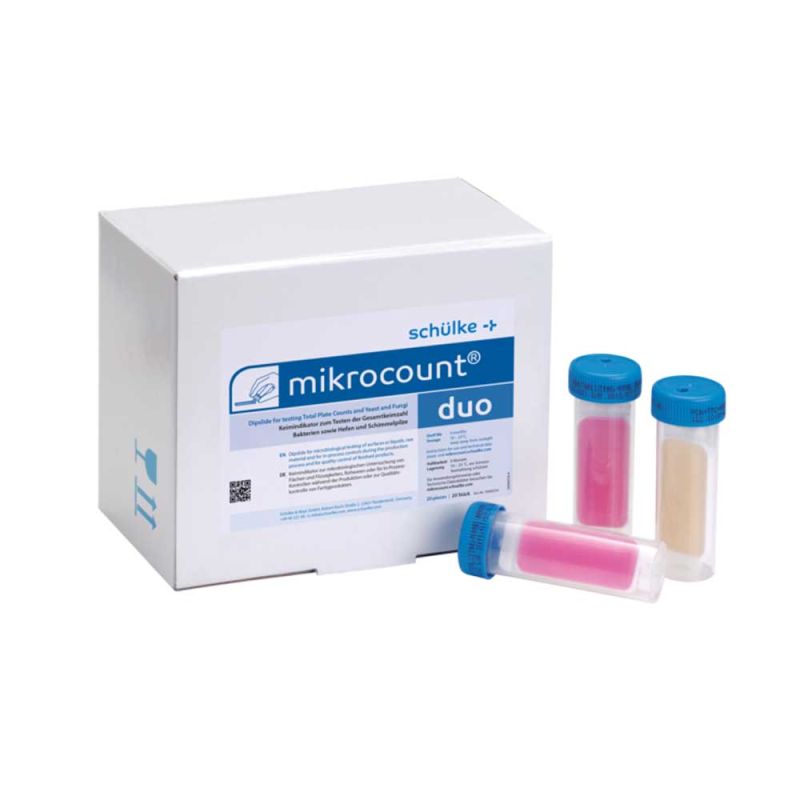 Schülke Microcount® Duo Contact Slides, Yeast / Molds, 20 Spcs
Its field of application lies in the microbiological monitoring of surfaces in hygiene areas of hospitals, food producing and processing companies, cosmetic areas etc.The Kunststoffnährbodenträger, with bilateral agar, have a high sensitivity and can be safely used for increased hygiene requirements.The result can be read very quickly and unequivocally by comparison with an evaluation panel without having to hire a trained staff. But it is also possible to pass on the nutrient media for follow-up examinations.Mikrocount® Duo convinces through the combined determination of total germ counts and detection of yeasts and molds. The indicators are supplied in break-proof, environmentally friendly and sterile plastic tubes made of polypropylene (without PVC components) with 20 units per box.Properties of Control Slidesready for useeasy handlingwith articulated joint - use the complete agar surfaceusable on both sidesno preparation timeno trained personnel necessaryeasy reading of the resultResults within 24 - 72 hourssafe in the sterile plastic tube20 h in a boxFields of Application of Control Slidesfor the examination of surfaces, semi-solid materials and liquidsfor the combined determination of the total germ count and detection of yeasts and moldshospitalsFood producing and processing companiesKitchens and large kitchens (eg in the health service)cosmetics industryPharmaceutical IndustryLaboratories and institutesMetalworking and related industrypaint industryPaper and coating industrytextile industrywater treatmenthousehold industryChemical / technical industry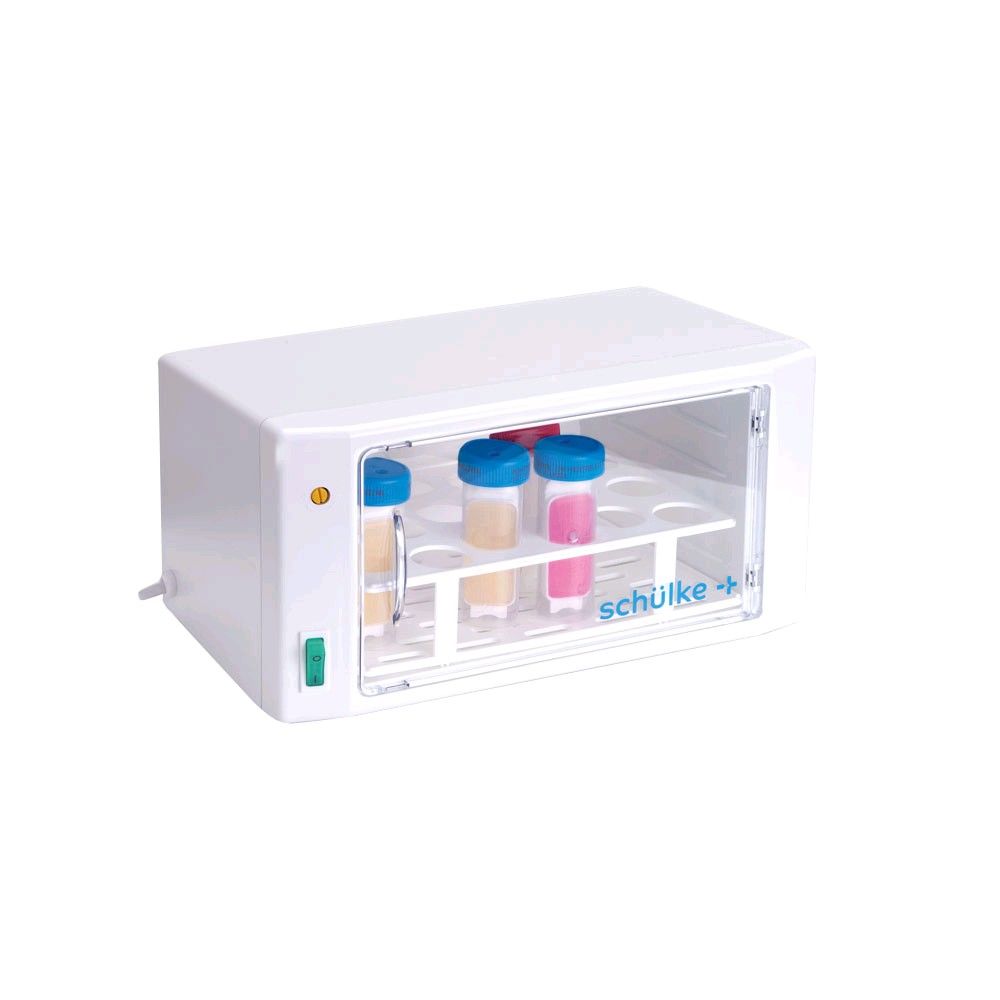 Schülke Cultura incubator for 18 Agar Strips, transparent door
Properties from incubatorfor 18 indicatorsUse in a horizontal or vertical positiontransparent door - simple control overviewset temperature of 35 ° CTemperatures 25 - 45 ° Cwill warm very quicklyincl. thermometerReadjusting the temperature - by adjusting the temperature control boltResults available the next dayVDE mark and is TÜV approved.ABS housing, whiteAnwendunsbereiche from incubatorfor incubation of mikrocount® TPC agar strips