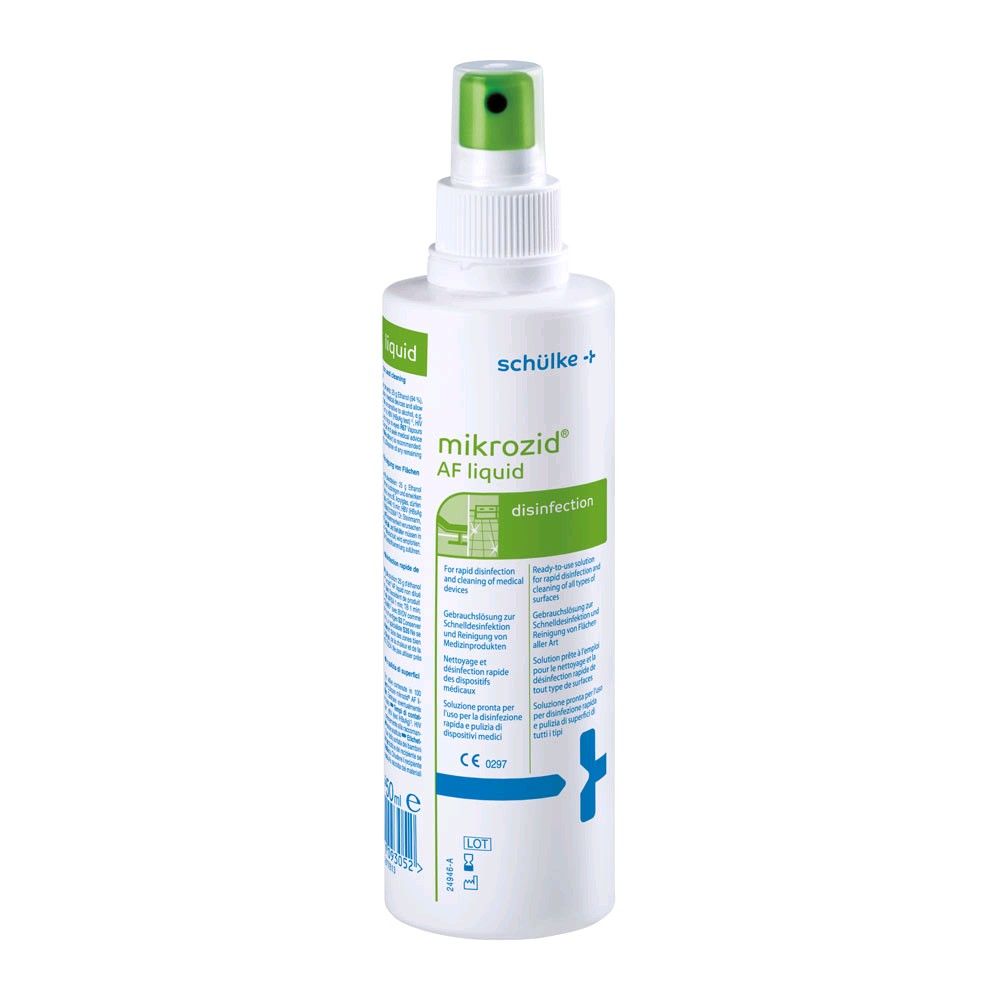 £4.29*
Content:
0.25 L
(£17.17* / 1 L)
Available, delivery time: 1-3 days
Product number:
SMH-109160
Best Advice on Medical Products
Fast Delivery of available products
High quality brands
Purchase on Account
Product details for mikrozid® AF liquid surface disinfectants
The Surface Disinfectant Schülke mikrozid® AF liquid is used for rapid disinfection of medical devices and surfaces with increased risk of infection.
Properties of surface disinfectant
rapid disinfection
at increased risk of infection
with the requirement short exposure times
ready-made solution
alcohol-based
aldehyde-free
wide effective within a short time
quick, residue-free drying
good wetting properties
Active against bacteria, mycobacteria (Tb.), Fungi, hepatitis B virus, HIV, HCV, adenoviruses, norovirus, rotaviruses, papovaviruses, polioviruses, vaccinia viruses
Applications of surface disinfectant
for rapid disinfection of medical devices (CE 0297) and all types of surfaces
Patient Treatment
examination tables
Surfaces of medical devices
Readers of the company CCV (manufacturer of stationary and mobile readers for eHealth, for detecting the insured master data (eGK) and the electronic signature.
Manufacturer "SCHÜLKE"
The Schülke & Mayr GmbH - also known under the short form Schülke - is an internationally highly regarded manufacturer of disinfectants and cleaning agents. Schülke products are used, for example, to prevent infections in medical practices and hospitals, for industrial hygiene or general everyday hygiene. The Schülke & Mayr GmbH is an important partner of Medicalcorner24® and we have a wide range of Schülke products. Including well-known brands such as Desderman or Desmanol as well as modern dispenser systems for soaps and disinfectants.
More articles from SCHÜLKE to look at
MC24® Hands / Surface Disinfection Biocide, Finger Nebulizer, 250 ml
Properties of Hand and Surface Disinfection Biocideready to use solutionas bactericidal, yeasticidal, virucidal activityaccording to efficacy studies: EN1276 (bacteria), EN1500 (bacteria), EN1650 (yeasts), EN13624 (yeasts), EN13697 (bacteria & yeasts), EN 13727 (bacteria), EN 14348 (mycobacteria), EN 14476 (Rota , Influenza, adeno, vaccinia, norovirus)Ingredients: 100 g solution contain: 70 g 2-propanol (Ph. Eur.)250 mlRound bottle with finger atomizerApplications of Hand and Surface Disinfection Biocidefor hygienic hand disinfectionfor the disinfection of (non-porous) surfacesContraindicationsNot suitable for disinfecting open woundsNot suitable for use in surgical equipmentNot suitable for disinfecting medical devicesUse biocidal products with care. Always read the label and product information before use.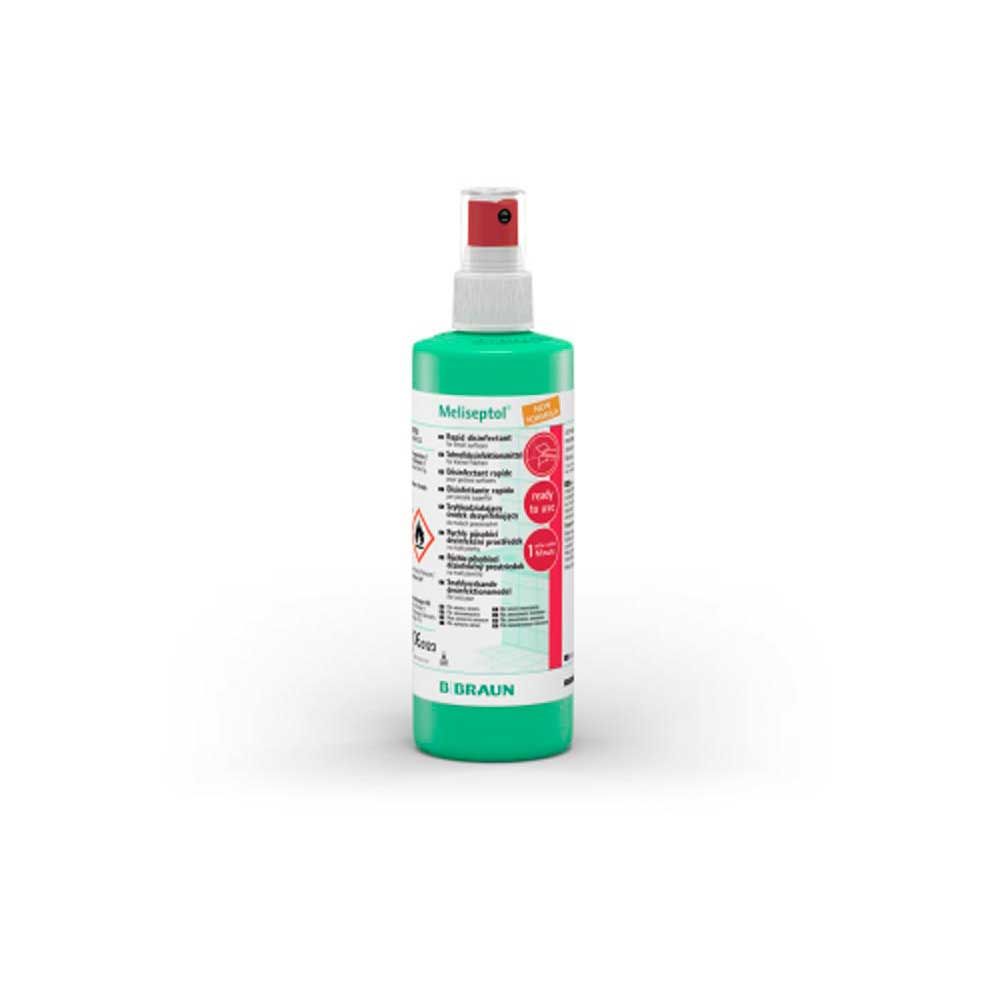 B.Braun surface disinfectant Meliseptol® 250ml spray bottle
Container:
spray bottle
| Liter:
250 ml
Fast-acting alcoholic surface disinfection Properties of Surface Disinfection Ready-to-use alcoholic disinfectant for all non-invasive medical inventory, medical devices e.g. examination chairs, hospital beds, theatre equipment and other kinds of surfaces Highly efficient based on a mid level alcohol concentration - active within 1 minute Enhanced cleaning performance, even on shining metallic surfaces available in different sizes and containers * Advantages of Surface Disinfection Without additional antimicrobial ingredient like aldehydes, QAC Pleasant, lemon-like smell Fast and comprehensive activity spectrum incl. mycobacteria and non-enveloped viruses as Rota-, Adeno- and Norovirus (MNV) * Meliseptol® 1000 ml spray bottle is supplied without spray head - this is available separately as an accessory from us.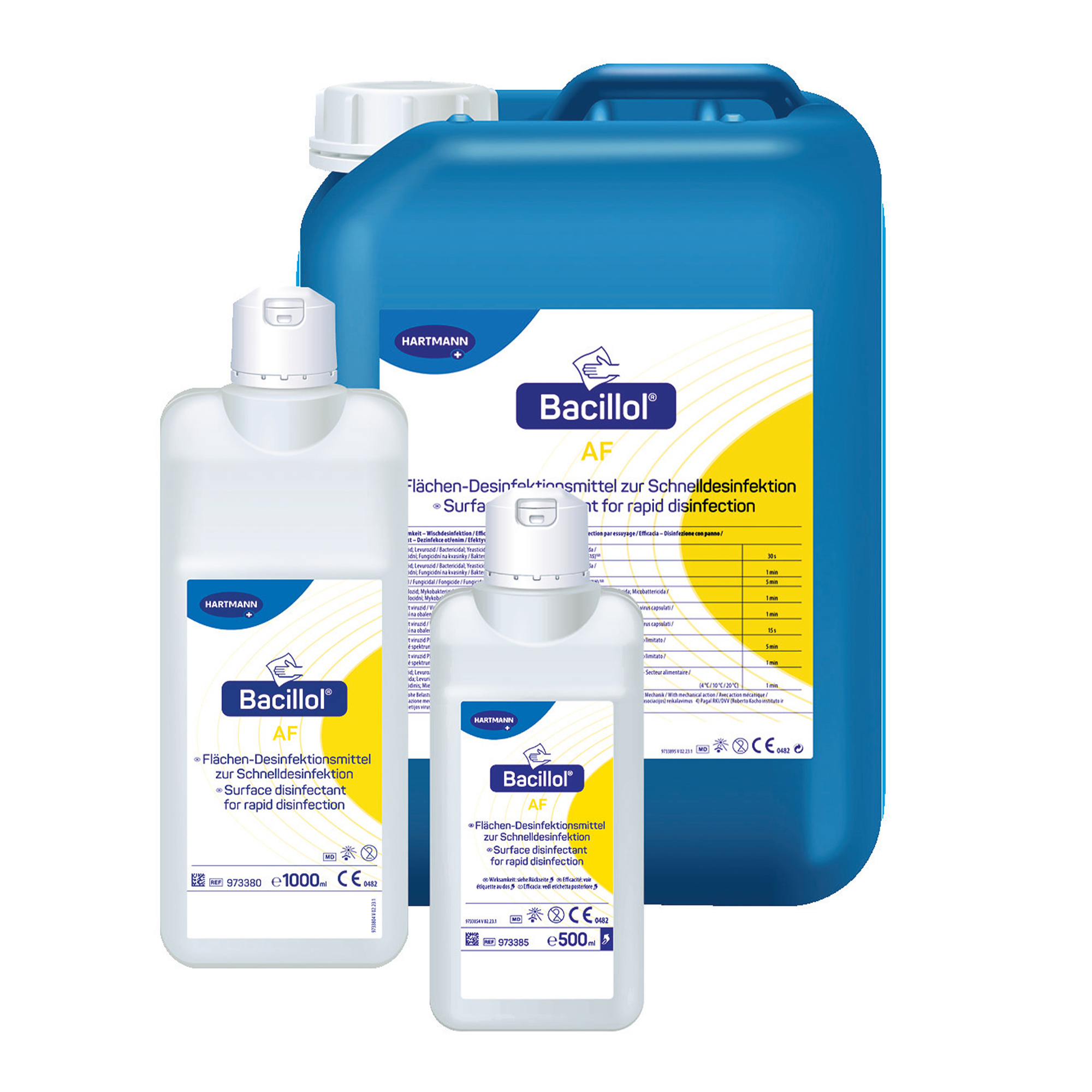 Bode Bacillol AF Surface Disinfectant, aldehyde-free
Bacillol AF by Bode is an aldehyde-free, alcohol-free quick acting (30 seconds) disinfectant. It dries quickly and without leaving residue. It is well suited for the use in hygienically sensitive environments. The disinfectant is also perfume-free and gentle on the cleaned material.Properties:quick disinfectionbroad range of effectsacts after 30 secondsgentle on the materialdries without residueperfume-free and aldehyde-freegood wetabilitybactericidal (including salmonella and listeria)levurocidalfungicidaltuberculocidalmykobactericidallimited virucidal (including HBV, HIV, HCV)adeno virusesFCVMNVpolyoma and rota virusesVAH, DVG and CE listed (marked according to medical product laws MPG respectively MDD)Fields of application:surfaces that need quick disinfection and drying without leaving residuequick disinfection of alcohol-resistant surfaces by spray or wipe cleaningfor medical instruments and inventory according to medical product laws (according to MPG)hospitals and nursing homes (according to BPD)canteen kitchens (according to BPD)Bacillol AF is available in different sizes.