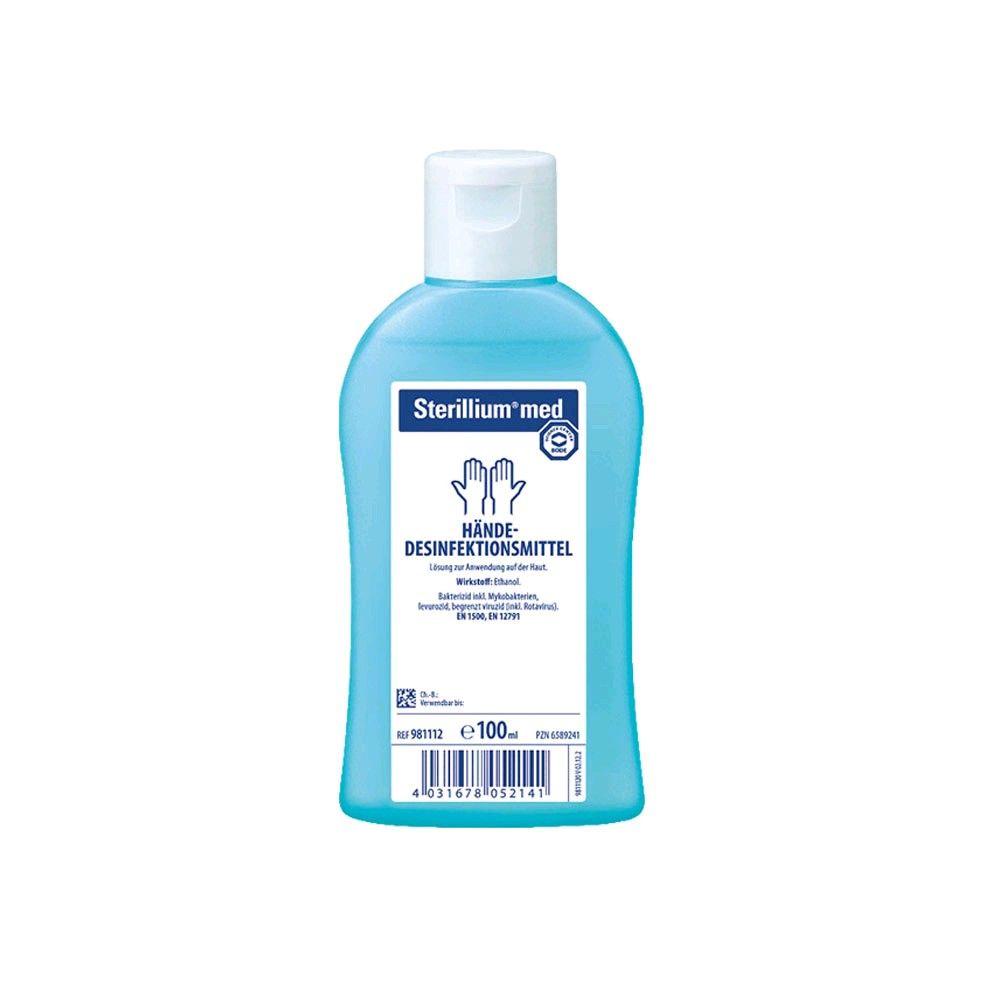 £1.90*
Content:
0.1 L
(£19.04* / 1 L)
Available, delivery time: 1-3 days
Product number:
BOD-981112
Best Advice on Medical Products
Fast Delivery of available products
High quality brands
Purchase on Account
Product details for Sterillium med
Sterillium med is an alcohol-based hand disinfectant that is gentle on the skin.
Sterillium med by Bode is produced on ethanol-basis. The hand disinfectant is perfume-free, colourant-free and offers a broad range of effects against viruses, including noro viruses. Sterillium med is gentle on the skin and suitable for people with allergies.
Properties:
ethanol-based
broad range of effects
colourant-free and perfume-free
quick acting
good remanence effect
for sensitive skin and people with allergies
bactericidal: listeria, salmonella, VRE and MRSA
tuberculocidal
levurocidal
fungicidal
mycobactericidal
limited virucidal (including HBV, HIV, HCV)
effective against avian and human influenza, noro, adeno, rota and rhino viruses
Fields of application:
in treatment rooms and ambulances
in laboratories
in household areas
in hospitals
for rescue services
in medical practices of all medical fields
in care nursing and baby care
for home dialysis
Available in different sizes.
Manufacturer "BODE"
Bode Chemie GmbH from Hamburg manufactures highly effective disinfectants and other hygiene products. Well-known brands, which you can also find here in our shop, are for example Bacillol, Baktolan or Sterillium. Bode disinfectants and skin care products are available in various versions and sizes. We also have dispenser systems such as the Bode Euro dispenser for disinfectants, cleaning solutions or soaps, including suitable accessories. Bode Tissues, which are available in refillable dispenser boxes, must also be stored safely.
More articles from BODE to look at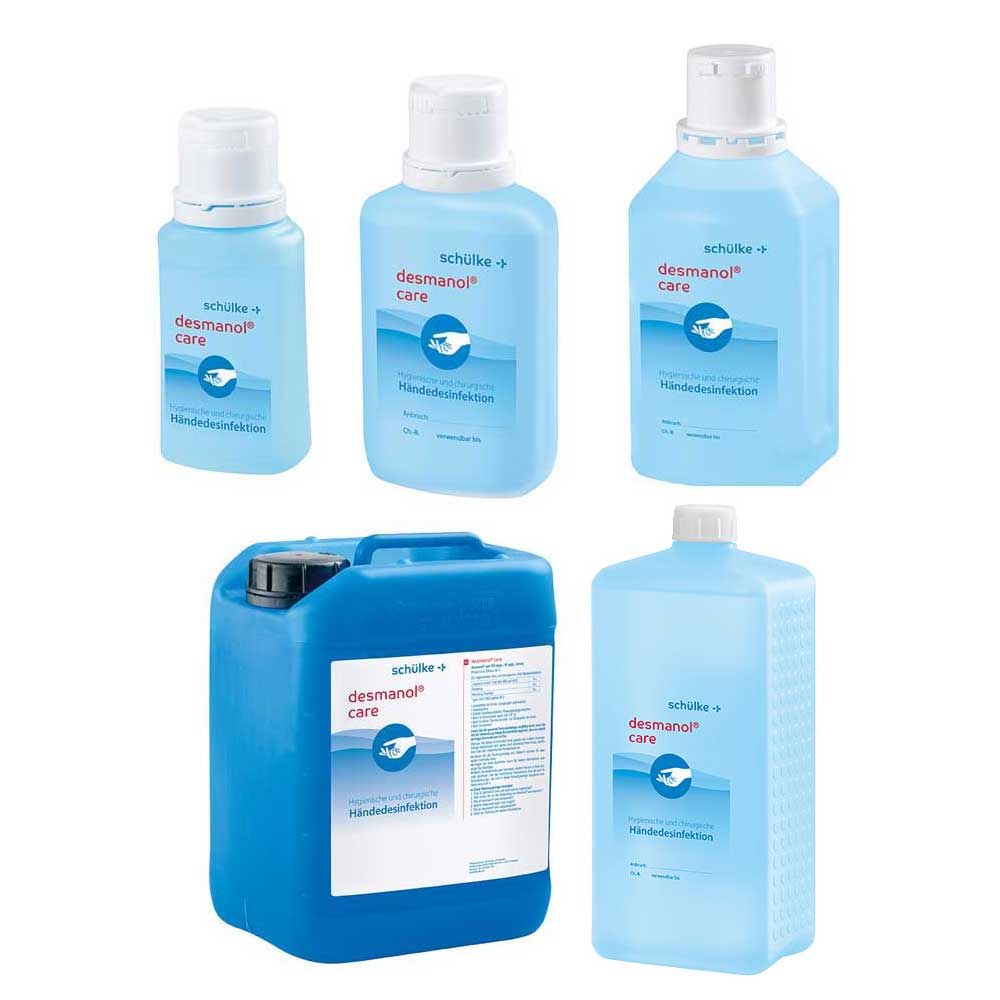 Schülke hand disinfectant desmanol® care, nurturing
Due to the frequent hand disinfection, especially in hospitals or doctors' offices, the skin in these areas suffers a lot, often due to the alcoholic formula. With this caring hand disinfection this problem is now resolved. Schülke has managed to combine a care complex and a high microbiological effectiveness . Because Desmanol® care activates cell renewal, has an anti-inflammatory effect and offers sustainable care for both hygienic and surgical hand disinfection. In addition, the disinfectant with provitamin panthenol is quickly absorbed and leaves a smooth and moisturized skin feeling.But not only care is in the foreground here, but also the wide range of effects , which inactivates noroviruses within 15 seconds. It therefore offers optimal and safe protection against infection in all hygienic areas and can be used all year round. In addition, Desmanol® is care is a ready-to-use, perfume- and dye-free - and tested drug which is VAH-certified and IHO listed.Properties of hand disinfectant ready-to-use perfume and dye-free liquid absorbs quickly with a high microbiological level Effectiveness with a broad spectrum of action limited virucidal PLUSinactivates noroviruses in 15 seconds with provitamin panthenol cares for the skin activates cell renewal has an anti-inflammatory effect with long-term care protection improves the skin structure - looks smoother.moisturizes care effect clinically confirmed a year-round product IHO list VAH- Certificate Ingredients of the hand disinfectant 100 g of the solution contain pharmaceutically active ingredients: Propan-2-ol 70.0 g Ethanol 96% 9.9 g Other ingredients: Purified water Tetradecan-1-ol Cetostearyl alcohol (Ph. Eur.) Sorbitol solution 70% criticalizing (Ph. Eur.) Dexpanthenol Methyl ethyl ketone Areas of application for hand disinfection desmanol® care for hygienic and surgical hand disinfection in the hospital in the care area in doctor's offices in all hygienic areas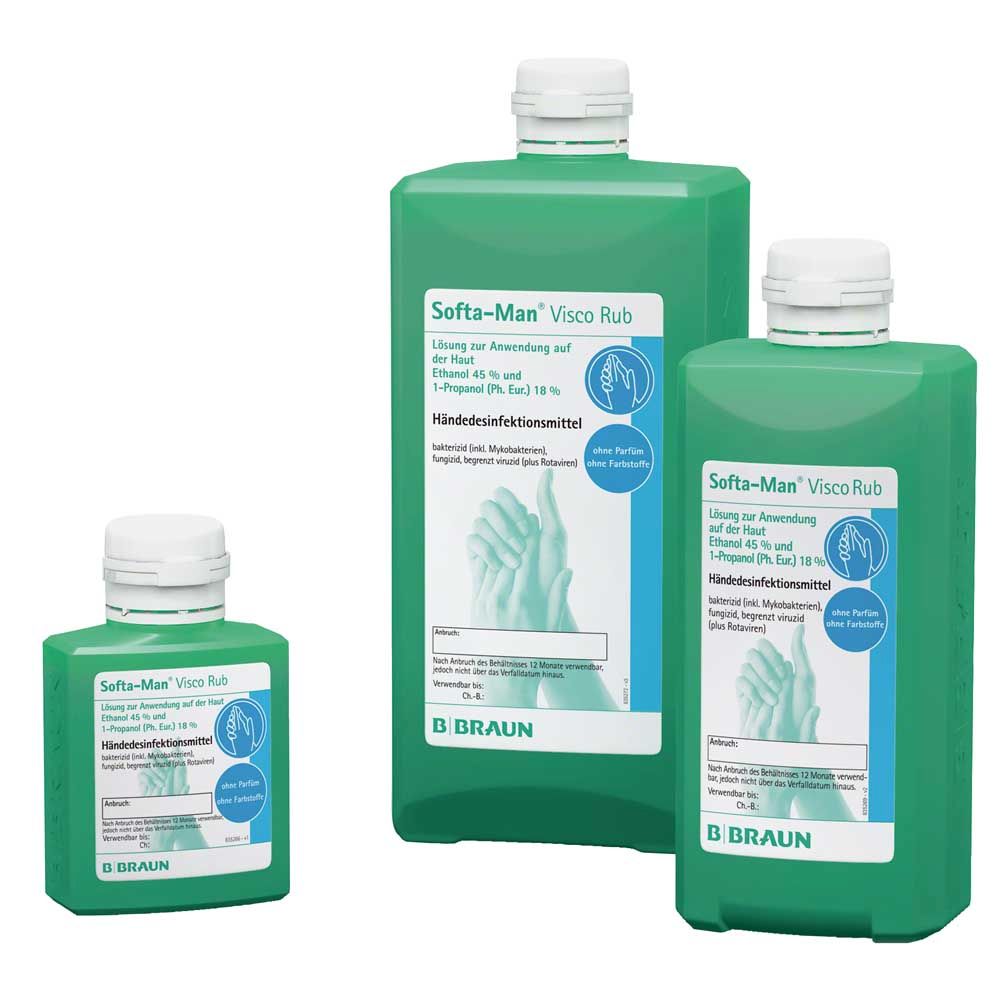 B.Braun hand disinfectant Softa-Man® ViscoRub, gel-like
Hand disinfection with a gel-like consistencyPROPERTIESActive against bacteria incl. MRSA, mycobacteria, fungi, enveloped viruses and rotavirusContains bisabololActive ingredients per 100 ml solution:45 g ethanol (100 %) and 18 g propan-1-olTested according to EN1275, prEN 12054/13727, EN 13624, EN 14348, EN 14476, EN 1500, EN 12791AdvantagesUnique gel-like consistencyLow risk of allergies due to absence of perfume and colourantsApplication time for hand disinfection: Hygienic:30 seconds / Surgical: 90 seconds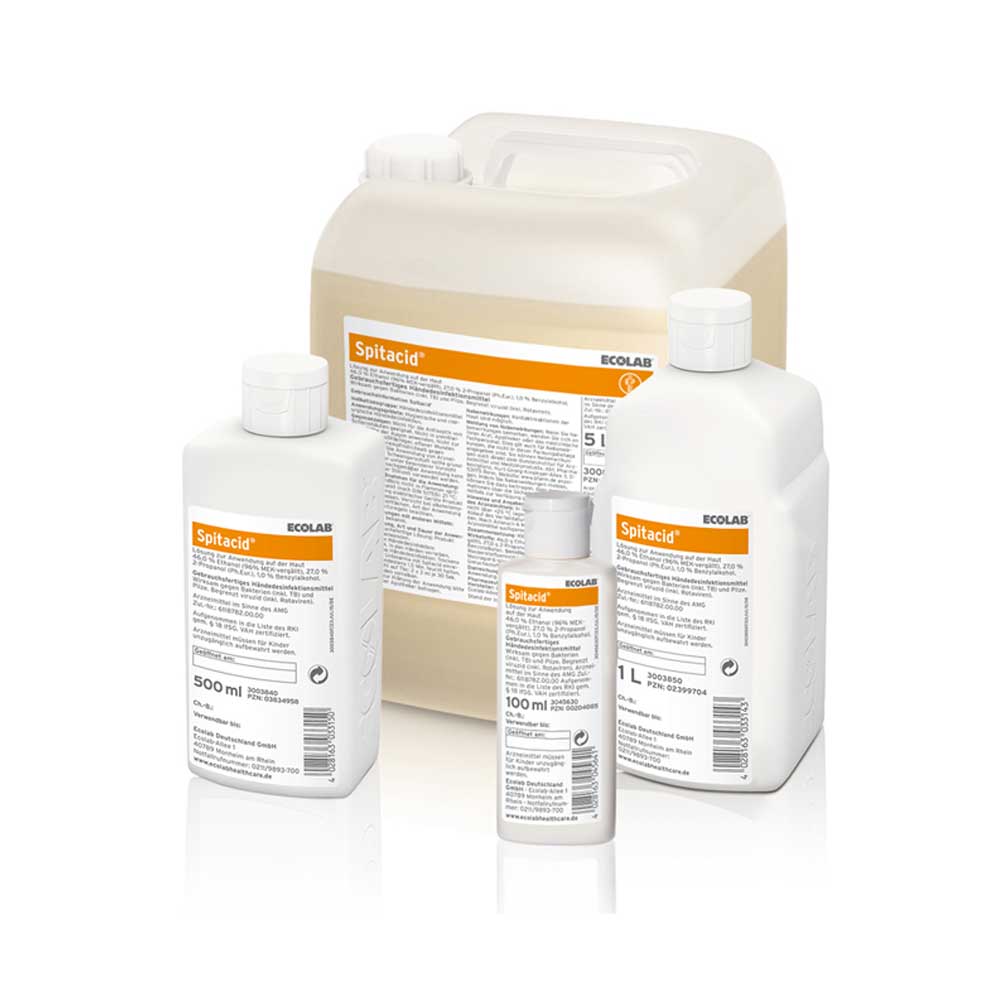 Ecolab Hand Disinfection Spitacid, Sizes
Spitacid™ by Ecolab is a reliable solution for hygienic and surgical hand disinfection. Dermatologic tests have shown that the hand disinfectant is gentle on the skin, even when used over longer periods of time. Spitacid™ offers a broad efficiency against bacteria (incl. TB) and yeasts. It acts limitedly virucidal (incl. HIV, HBV, HCV according to RKI-recommendation 01/2004) and is efficient against noro-, adeno- and rotaviruses. The quick-acting disinfectant is suitable for use in medical practices, hospitals or nursing homes.Spitacid™ is available in the sizes 100 ml, 500 ml, 1 liter and 5 liter.Apply Spitacid™ only on dry hands. Remove watches and rings. Fingernails are best kept short and without polish. Use as much hand disinfectant as fits into the cup of your hand. Spread the disinfectant across the hands, taking especially great care with fingertips, nails and thumbs. Massage approximately 30 seconds.Properties of Spitacid™for surgical hand disinfectionskin-friendlyquick-actingefficient against bacteria and yeastsefficient against noro-, adeno- and rotavirusesflammableavailable in sizes 100 ml, 500 ml, 1 liter and 5 literImportant InformationSpitacid® solution for application on the skin.Ingredients: 100 g Spitacid® contain: Agents: 46,0 g ethanol (96% MEK-denaturated), 27,0 g 2-propanol (Ph. Eur.), 1,0 g benzyl alcohol. Other ingredients: hydrogen peroxide solution 30%, macrogol-6-glycerolcaprylocaprat (Ph.Eur.), perfumes, cleaned water.Application: hygienic and surgical hand disinfection.Counter-indications: Not suitable for antiseptic of mucosae. Do not use close to the eyes. Not suitable for antiseptic of large, open wounds. Hypersensitivity against ingredients. Application of pharmaceuticals during pregnancy should always occur with maximum care. If used correctly, Spitacid® can be used during nursing period.Side effects: Contact reactions of the skin are possible.Safety instructions for application: Easily flammable; do not spray into flames, flash point (according to DIN 51755): 21 degrees Celsius. Let product dry completely before handling electric devices. Take care with alcohol-sensitive surfaces. Avoid contact with the eyes. If contact with eyes occurs, rinse the eyes with lots of water (also underneath the eyelids) – at least for 15 minutes. Check for and remove contact lenses. Contact a doctor, if smptoms are persistent or strong. Always regard the right application method and safety instructions.Date: 03/2017Ecolab Deutschland GmbH, Ecolab-Allee 1, 40789 Monheim am Rhein.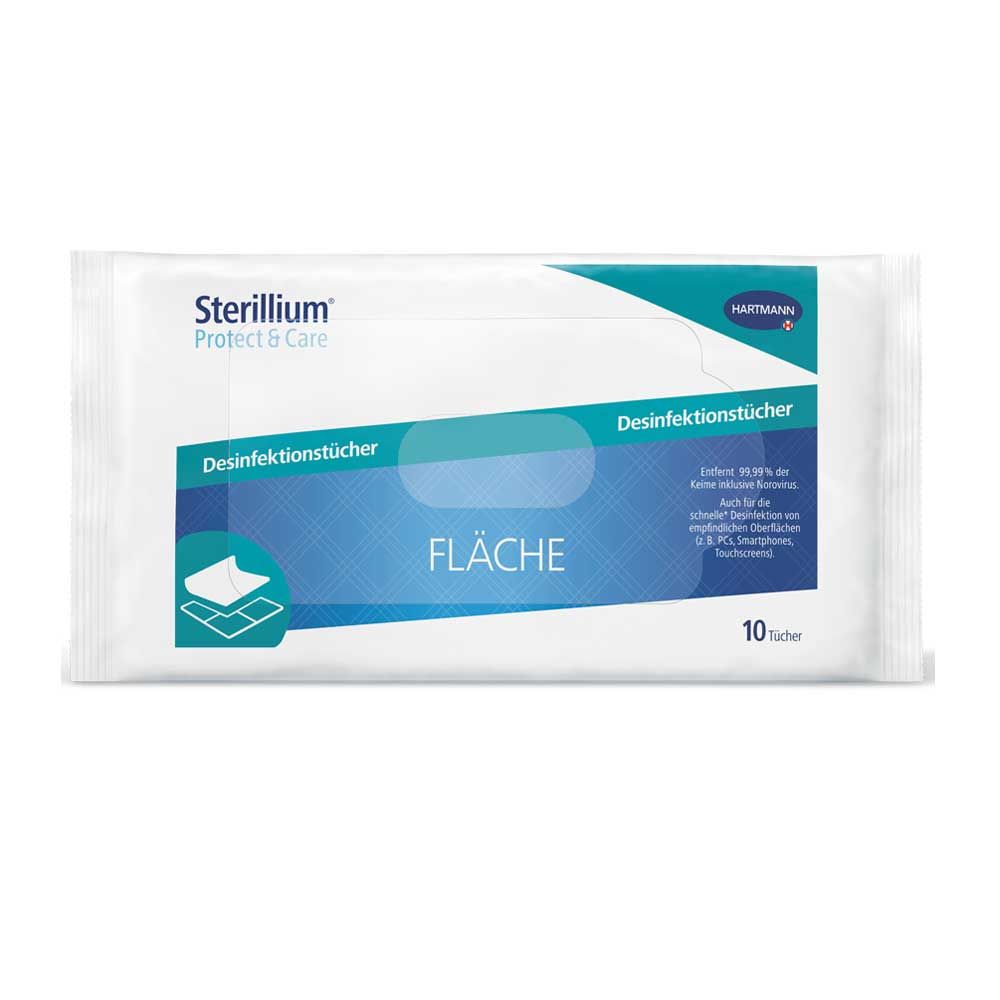 Hartmann Sterillium Protect & Care Disinfectant Wipes, Surface, 10pcs
Their material-sparing composition makes them ideal for disinfecting and cleaning smartphones, touchscreens and PC screens or acrylic glass. But they can also be used for all other insensitive surfaces. Due to the practical packaging, with single-sheet removal and secure closure, they are always at hand and do not dry out.Sterillium Protect & Care Disinfectant Wipes are shipped in a pack of 10 or 80 ready-to-use wipes in a resealable package and can be carried in any pocket.Properties of Disinfectant Wipesperfume and dye-freesafe and reliableextensive effect (also Noro viruses)effective from 30 secondsfor Norovirus observe exposure time of 5 minutescomposition: Active ingredients of the impregnation solution: ethanol 140 mg / g, propan-2-ol 100 mg / g, propan-1-ol 60 mg / g, N-alkylaminopropylglycine (CAS 139734-65-9) 5 mg / g10 pieces or 80 pieces (flowpack)Fields of application of Disinfectant Wipesfor the disinfection of sensitive surfacesideal for PCs, smartphones, touchscreens and Plexiglasideal for excursions, on the way and on tripsBiocidal NoteBiocidal products must be used with care and always read the label and product information before use. Sterillium Protect & Care Disinfectant Wipes contain the following hazard warnings: H226 Flammable liquid and vapor. H319 Causes scissors eye irritation. H412 Harmful to aquatic life with long lasting effects.