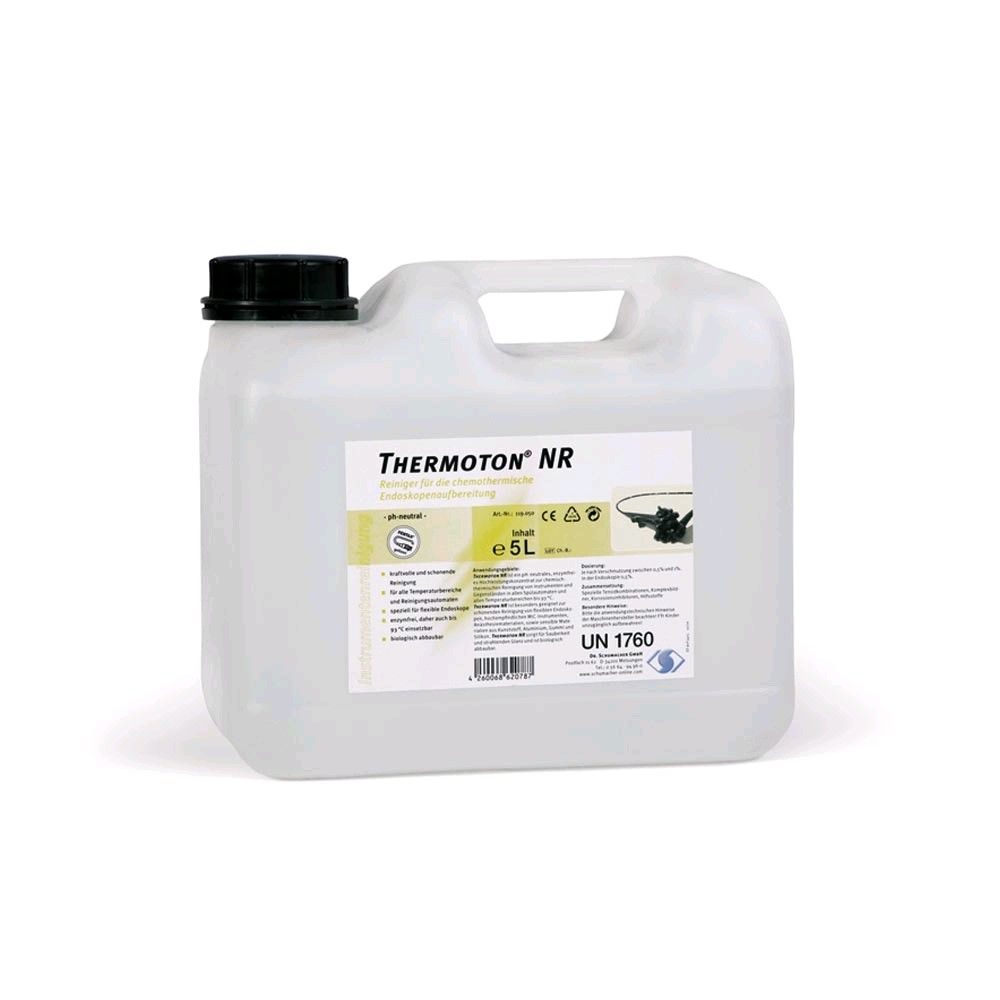 £28.62*
Content:
5 L
(£5.73* / 1 L)
Product number:
DSM00-119-050
Best Advice on Medical Products
Fast Delivery of available products
High quality brands
Purchase on Account
Product details for cleaner for endoscope reprocessing
Thermoton® NR is a powerful pH-neutral liquid cleaner for chemo-thermal endoscope reprocessing in all types of endoscope washing machines from all manufacturers.
Thermoton® NR is manufacturer-approved by Pentax. Its cleaning performance in endoscope washing machines has been verified by independent expert reports.
Thermoton® NR is an ideal pre-cleaner for Thermoton® Desinfektant for the automated reprocessing of flexible endoscopes at 55 - 60 °C.
Thermoton® NR is also suitable for chemo-thermal disinfection of thermostable instruments at 93 °C. A significant advantage of Thermoton® NR is its neutral pH-value which ensures thorough and gentle cleaning. In addition, rinsing for neutralisation is not necessary in comparison to alkaline cleaners.
Properties of instrument cleaner
excellent cleaning power
pH-neutral
high degree of material compatibility
approved cleaning performance
Range of Application of instrument cleaner
chemo-thermal cleaning of flexible and rigid endoscopes
chemo-thermal reprocessing of instruments at 60-93 °C
Expoure Time of instrument cleaner
depending on organic contamination 
0.3 - 0.7 %
endoscope reprocessing 0.4 - 0.6 %
Manufacturer "DR. SCHUMACHER"
The Dr. Schumacher GmbH from Germany has been known for many years for its products for the areas of hygiene, disinfection and care. We carry, among other things, disinfectants for hand and surface disinfection, disinfectant wipes, skin creams and lbs from this well-established manufacturer. The range also includes cleaning agents and disinfectants for technical devices, such as instrument milk or combination powder for instrument disinfection. In our shop you will find brands like Aseptoman, Cleanisept, Decontaman or Descoderm at affordable prices.
More articles from DR. SCHUMACHER to look at