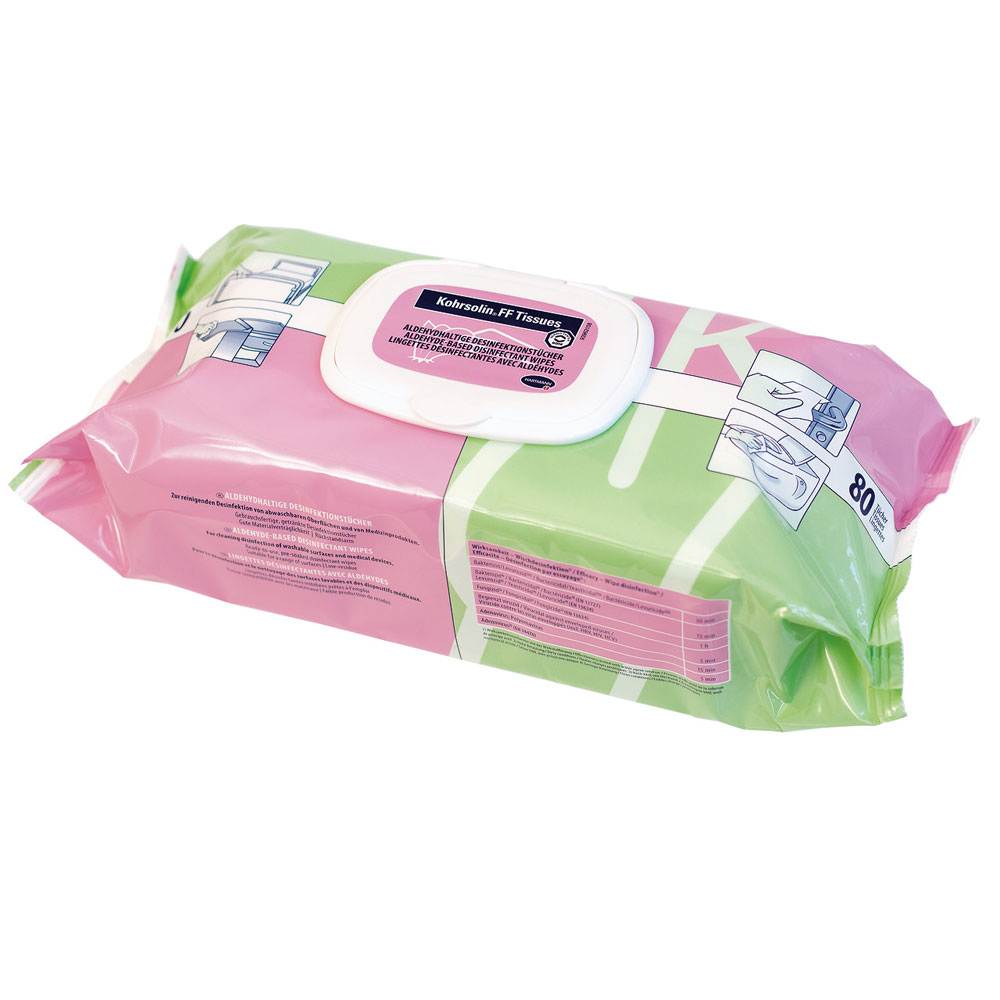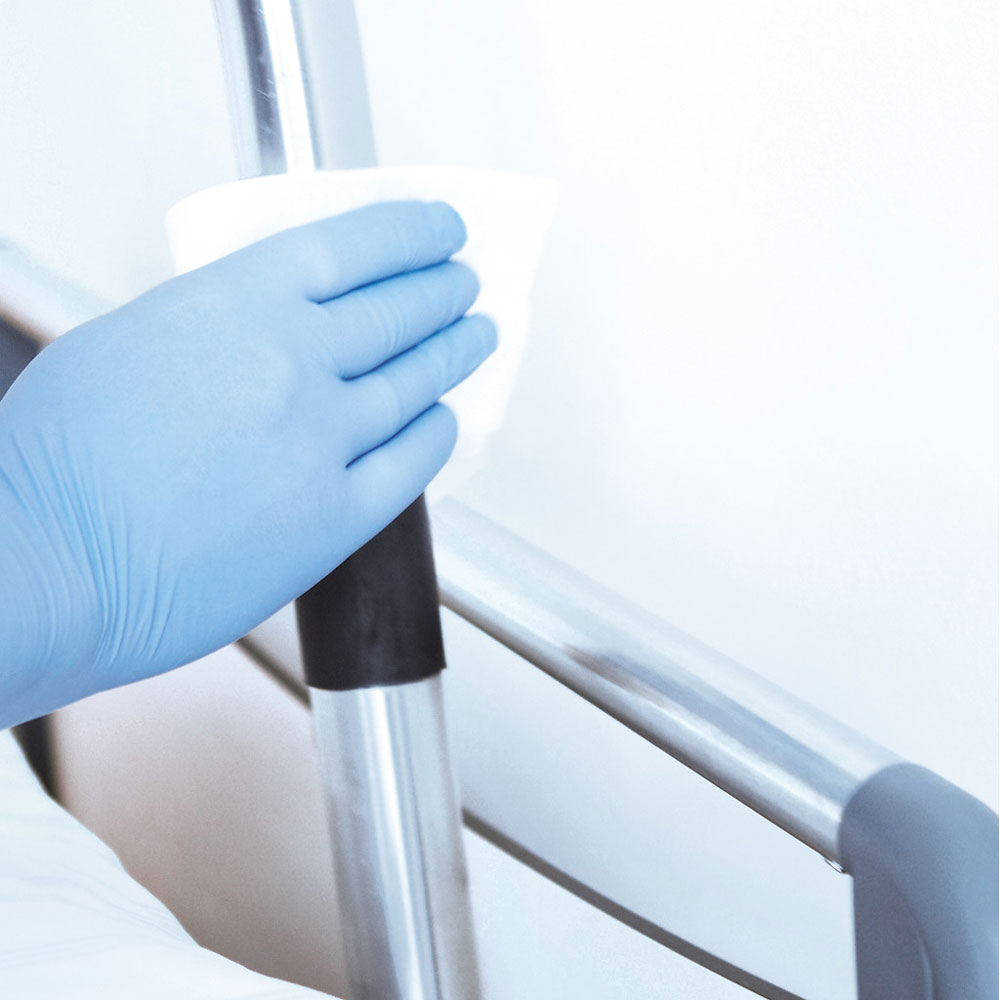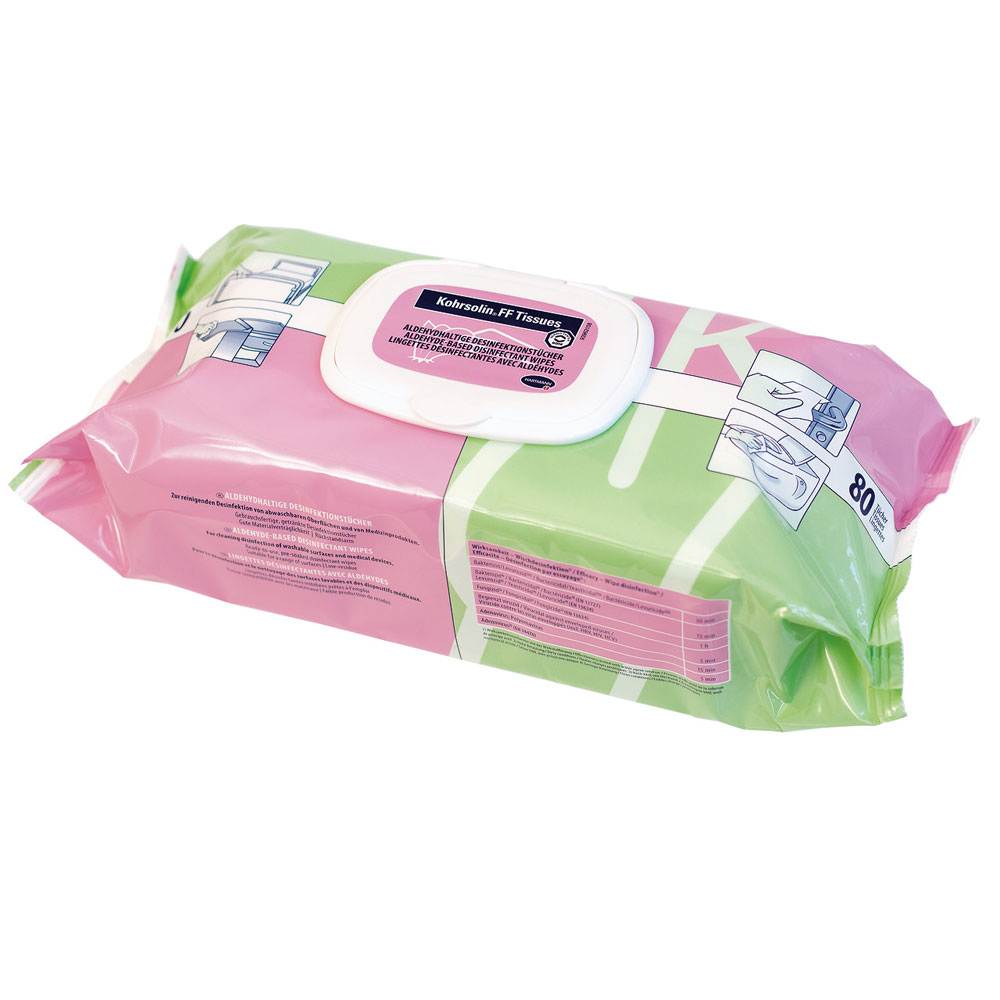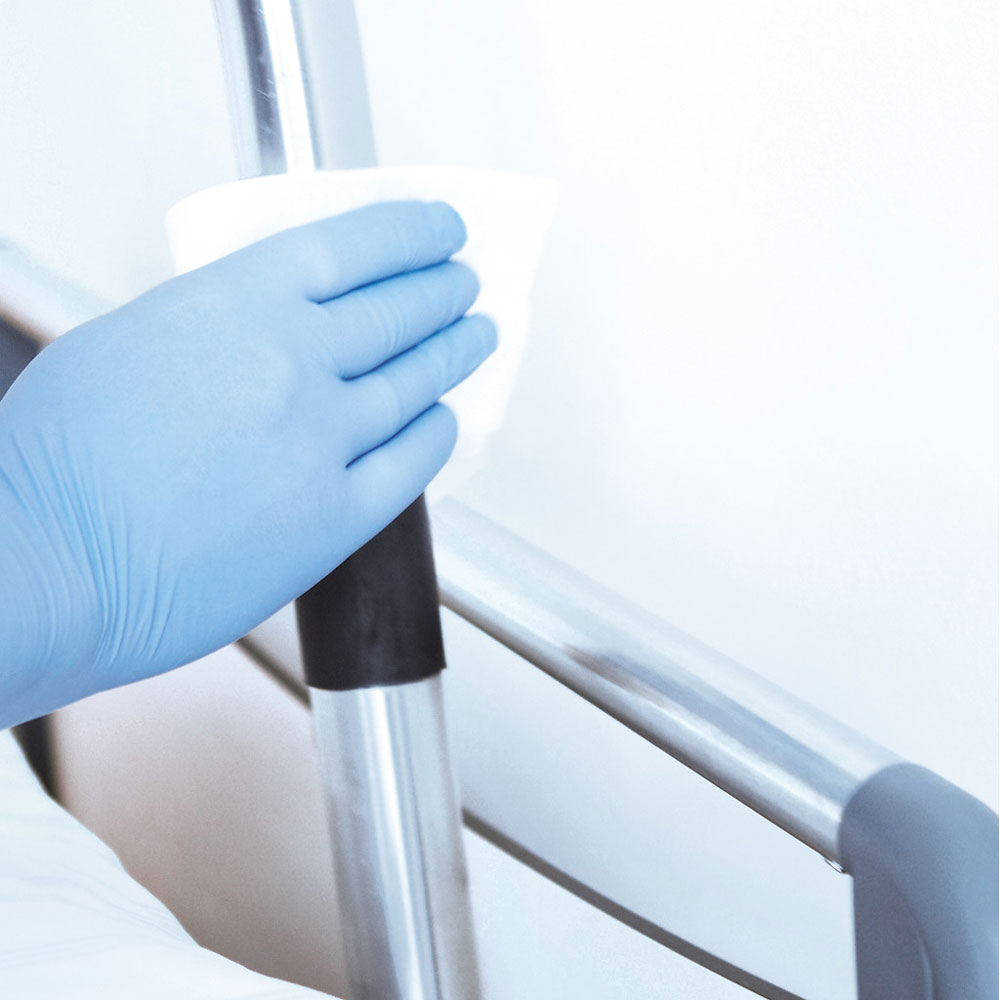 Available, delivery time: 1-3 days
Product number:
BOD-981201
Best Advice on Medical Products
Fast Delivery of available products
High quality brands
Purchase on Account
Product details for surface disinfectant wipes
The aldehyde disinfectant wipes Kohrsolin® FF Tissues of BODE are suitable for prophylactic, cleaning surface disinfection.
Properties of disinfectant wipes
good material compatibility
ready for use
low residue
effective against murine norovirus (MNV)
excellent wetting and cleaning
patented system solution: optimal drug delivery during disinfection
safe and easy removal of individual towels
resealable Flowpack packaging
Cloth size 180 x 200 mm
Applications of disinfectant wipes
for uncomplicated disinfecting cleaning washable surfaces
Manufacturer "BODE"
Bode Chemie GmbH from Hamburg manufactures highly effective disinfectants and other hygiene products. Well-known brands, which you can also find here in our shop, are for example Bacillol, Baktolan or Sterillium. Bode disinfectants and skin care products are available in various versions and sizes. We also have dispenser systems such as the Bode Euro dispenser for disinfectants, cleaning solutions or soaps, including suitable accessories. Bode Tissues, which are available in refillable dispenser boxes, must also be stored safely.
More articles from BODE to look at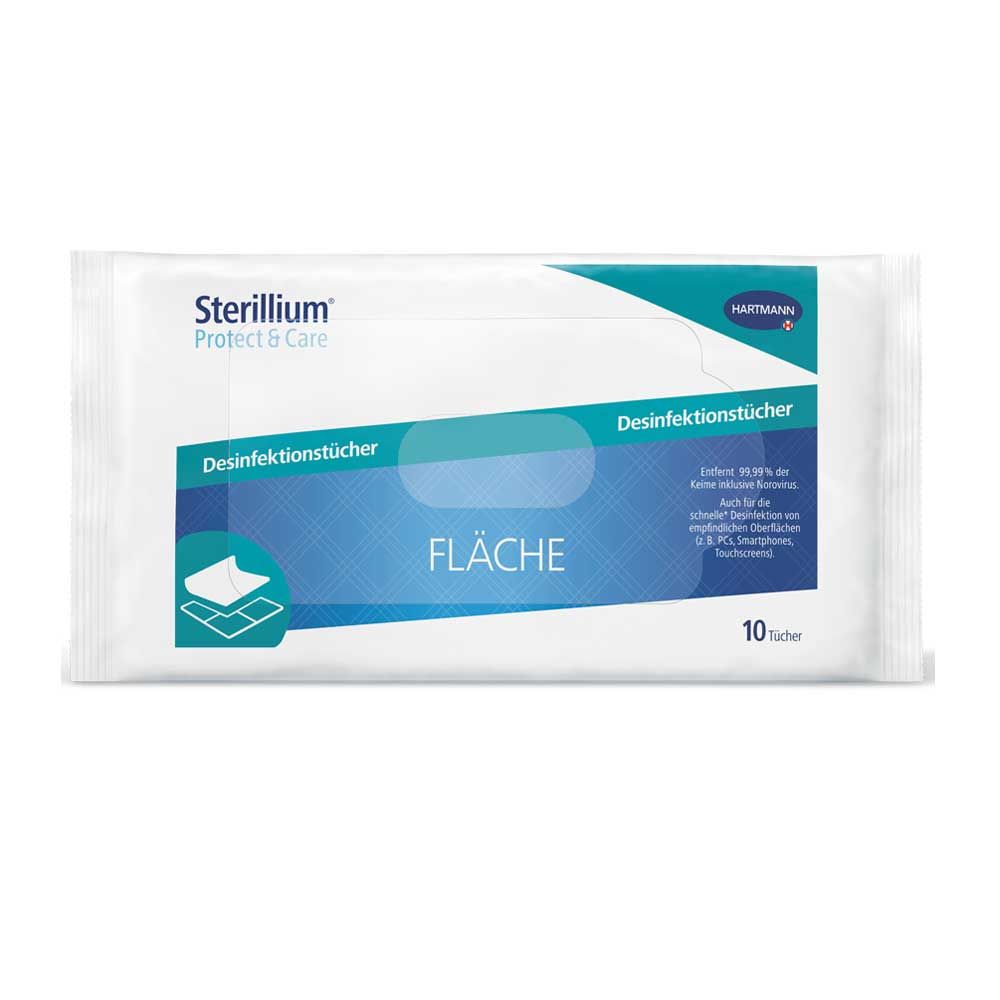 Hartmann Sterillium Protect & Care Disinfectant Wipes, Surface, 10pcs
Their material-sparing composition makes them ideal for disinfecting and cleaning smartphones, touchscreens and PC screens or acrylic glass. But they can also be used for all other insensitive surfaces. Due to the practical packaging, with single-sheet removal and secure closure, they are always at hand and do not dry out.Sterillium Protect & Care Disinfectant Wipes are shipped in a pack of 10 or 80 ready-to-use wipes in a resealable package and can be carried in any pocket.Properties of Disinfectant Wipesperfume and dye-freesafe and reliableextensive effect (also Noro viruses)effective from 30 secondsfor Norovirus observe exposure time of 5 minutescomposition: Active ingredients of the impregnation solution: ethanol 140 mg / g, propan-2-ol 100 mg / g, propan-1-ol 60 mg / g, N-alkylaminopropylglycine (CAS 139734-65-9) 5 mg / g10 pieces or 80 pieces (flowpack)Fields of application of Disinfectant Wipesfor the disinfection of sensitive surfacesideal for PCs, smartphones, touchscreens and Plexiglasideal for excursions, on the way and on tripsBiocidal NoteBiocidal products must be used with care and always read the label and product information before use. Sterillium Protect & Care Disinfectant Wipes contain the following hazard warnings: H226 Flammable liquid and vapor. H319 Causes scissors eye irritation. H412 Harmful to aquatic life with long lasting effects.
Schülke mikrozid® universal wipes, Quick disinfectant wipes, 100 pcs
Properties of disinfectant wipessoft Pack100 clothsCloth size 200 x 200 mmQuick disinfectant wipes - shortened exposurequality cloth qualityvery good material compatibility (for example, tablets)rapid effectiveness (Noro 30 sec.)effective according to EN 16615 (4-field test) in 1 minuteexcellent cleaning performanceno artificial colors or perfumesdermatologically testedInhaltstsoffe: 100 g of active substance solution containing of active ingredients: 17.4 g of propane-2-ol, 12.6 g ethanol (94% w / w)Spectrum of disinfectant wipesbactericidal EN13727bactericidal according to VAH rulesMycobacterium terrae EN14348levurocidal according VAHlevurocidal EN13624limited virucidal (incl. HIV, HBV and HCV) according to DVV / RKI Guidelineadenovirus EN14476Norovirus EN14476Polyoma SV40 according DVV / RKI Guidelinerotavirus EN14476Applications of disinfectant wipesfor medical devices in all areas and wipeable surfaces of all kinds with an increased risk of infectionfor sensitive communication devices: keyboards and control panels, for example, Smartphones and TabletsPatients Near surfacesPatient Treatmentexamination tablesOperating tables with adjoining topsSurfaces of medical devices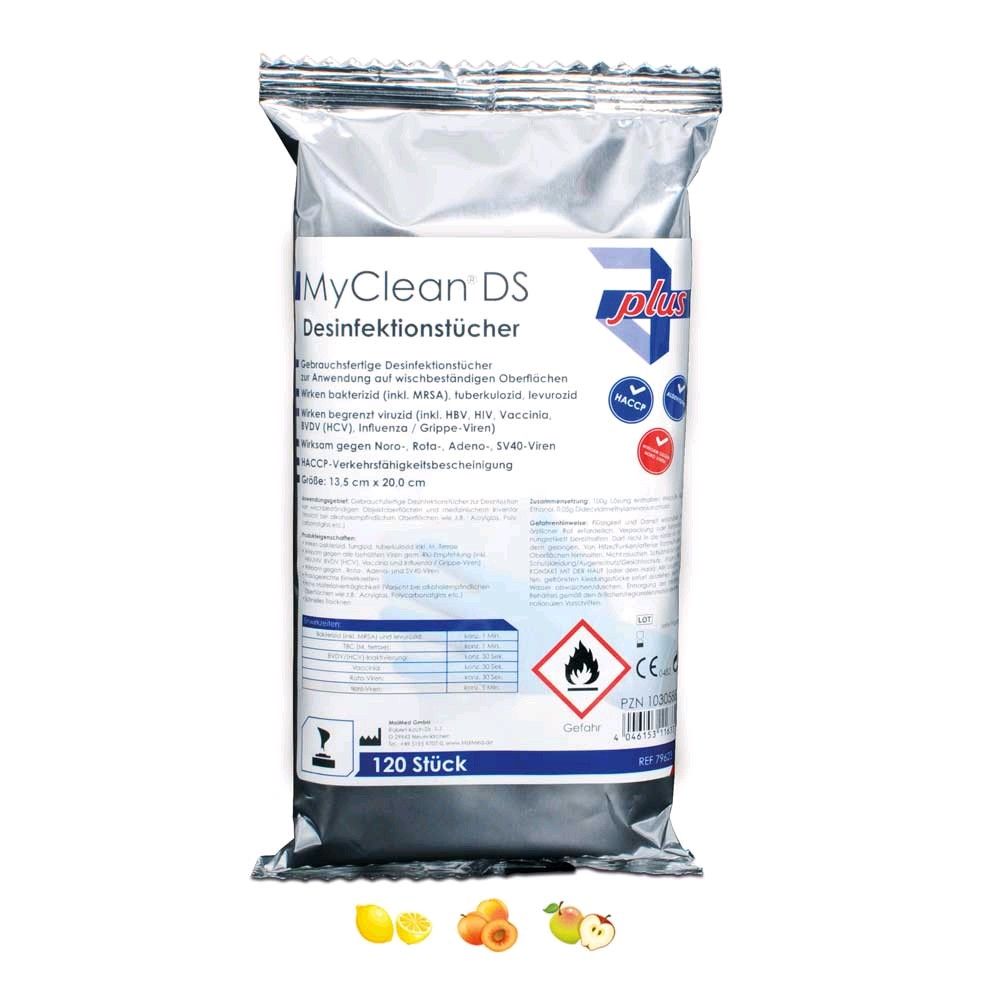 MyClean DS Surface Disinfection Wipes by MaiMed, 120 items
MyClean DS surface disinfection wipes by MaiMed are perfume-free and aldehyde-free. They are effective against noro viruses and are suitable for the alcoholic disinfection of medical inventory. MyClean DS is available in many different versions: different flavours, with or without dispenser. The handy dispenser can keeps the wipes moisturised and enables easy removal of single wipes.Properties:ready to useperfume-free and aldehyde-freevery gentle on the materialdifferent flavours availableacts within 1 minute120 items per packageVAH-listedsuitable for Haccp-traffic (only odourless version)bactericidal including MRSAtuberculocidallevurocidaleffective against noro, rota, adeno and SV40 viruseslimited virucidal (HBV, HIV, HCV, BVDV, vaccinia, influenza and all enveloped viruses according to RKI-recommendations)dries quicklydispenser can: height: 18,5 cm, diameter: 9 cm (sold separately)Fields of application:for wipe-resistant surfaces and medical inventorymedical practicesdental practicessolariumsfitness studiosIPL studios