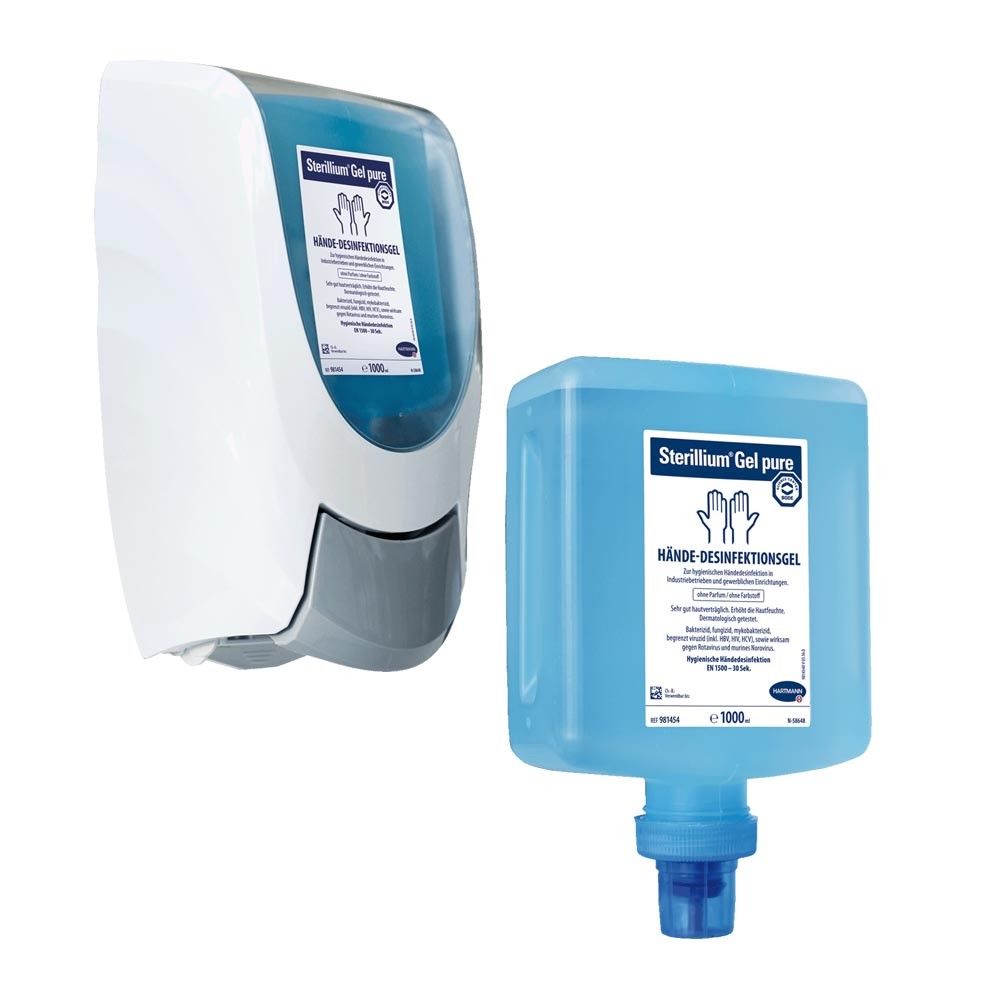 £90.01*
Content:
10 L
(£9.01* / 1 L)
Best Advice on Medical Products
Fast Delivery of available products
High quality brands
Purchase on Account
Product details for disinfectant dispenser CleanSafe basic Set
The CleanSafe basic dispenser is an overhead dispenser system with optimal dosage and complete emptying. It is supplied with pure 10x 1 L Sterillium® gel pur.
Properties of disinfectant dispenser CleanSafe basic
high Hygiensstandard
stable plastic construction
modern sleek design
smooth surface - easy cleaning
simple bottles Jump - ropfenfreier
perfect fit - very good fixation of the pump
optimal residual emptying
can be used without drip tray
Product protection through Integrated lock with keys
removable rear panel
incl. fastening material + user manual
Properties of hand disinfecting gel
10 bottles of 1,000 ml
practical collapsible disposable overhead bottle
Hygienic, fully enclosed disposable containers
preassembled disposable pump - no time-consuming and complicated treatment longer necessary
collapsible, airtight packaging for optimum emptying
no drop formation by suck-back with the clean-tip technology
preset dosage of 1.1 ml per stroke
ready for use
high ethanol content of 85%
excellent immediate effect
fast and comprehensive efficacy
color and perfume free
with care components - better penetration of the skin
slight rubbing into the skin
trocket quickly
leaves a soft and smooth feel
leaves no sticky residue
broad spectrum of activity against
Bacteria, fungi and viruses
including norovirus efficacy within the hygienic hand disinfection
excellent tolerance even with long-term use
compatible with Bode skincare products - according to EN 1500
compatible with nitrile gloves, latex and vinyl - according to EN 455-1 and ASTM standard D5151
VAH-list
Effectiveness of hand disinfecting gel
bactericide
levurocidal
fungicide
tuberculocidal
myobactericide
limited virucidal incl. HBV, HIV, HCV
Norovirus virucidal
Applications of hand-disinfecting-gel-donor-Set
for hygienic hand disinfection
for industrial and commercial facilities
Manufacturer "PAUL HARTMANN"
Hartmann AG is one of the largest manufacturers of dressing materials such as plasters or gauze bandages, surgical disposable tools and other surgical accessories as well as dispenser systems for disinfectants and cleaning agents. In the field of medicine, Hartmann also manufactures products for in-patient or home care. For example, we also have special pads, templates and briefs that are used in cases of incontinence. We also carry various skin care products from Hartmann AG. For athletes, we offer cooling compresses, ice spray and cooling gel from Hartmann.
More articles from PAUL HARTMANN to look at