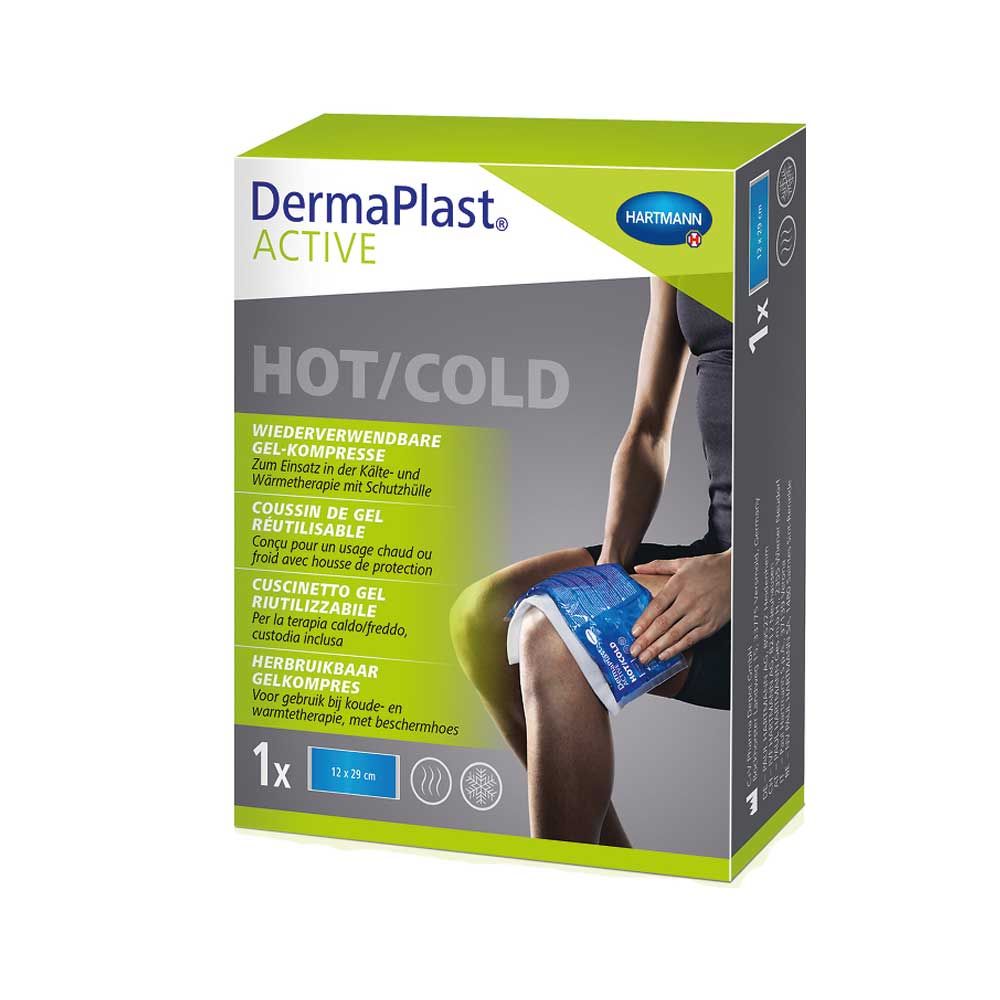 Available, delivery time 3-5 days
Product number:
HA5220220K-001
Best Advice on Medical Products
Fast Delivery of available products
High quality brands
Purchase on Account
Product details - DermaPlast Active Hot Cold Compress
Die DermaPlast® Active Kalt-Warm-Kompresse von Hartmann ist wiederverwendbar und in 2 Größen erhältlich.
It is mainly used in sports, for quick cooling of light sports injuries, their use. But it is also suitable for any private household or is used for heat therapy at e.g. Menstrual problems or back pain used.
The compress is filled with gel and is available in the size 13 x 14 cm or 29 x 12 cm, suitable for every body region. It can be stored in the freezer for refrigeration and is then ready for use in a variety of treatment areas, including joint inflammation, muscle discomfort, bruising and insect bites. As a heat therapy, it has an antispasmodic and blood circulation-promoting effect and leads to a physical relaxation.
Properties of Hot Cold Compress
with integrated fixation aid
reusable
gel filled bag
cold and warm usable
Gel composition: water, polyacrylic acid, citric acid, propylene glycol, sodium hydroxide, UV stabilizer, preservatives, dyes
1 compress per pack
2 sizes to choose from
Areas of application of Hot Cold Compress
for the prevention of sports injuries
to relieve pain and physical discomfort
or use before or after exercise
when cold: local analgesic and decongestant in acute inflammation of joints and muscles, blunt injuries, bruises, insect bites and toothache
Warm use: locally improves blood circulation and releases tension in case of sore muscles, back pain and menstrual cramps
Manufacturer "PAUL HARTMANN"
Hartmann AG is one of the largest manufacturers of dressing materials such as plasters or gauze bandages, surgical disposable tools and other surgical accessories as well as dispenser systems for disinfectants and cleaning agents. In the field of medicine, Hartmann also manufactures products for in-patient or home care. For example, we also have special pads, templates and briefs that are used in cases of incontinence. We also carry various skin care products from Hartmann AG. For athletes, we offer cooling compresses, ice spray and cooling gel from Hartmann.
More articles from PAUL HARTMANN to look at