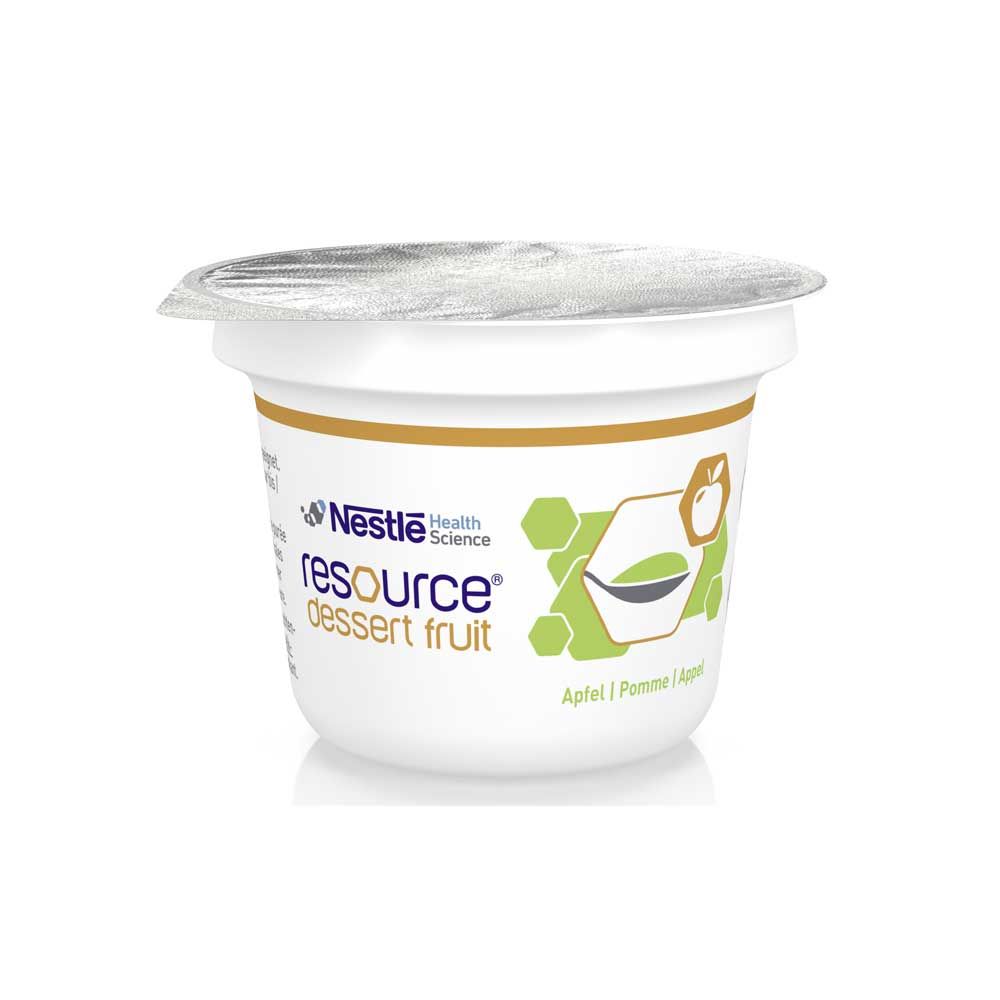 £92.72*
Content:
4.5 kg
(£20.60* / 1 kg)
Available, delivery time 3-5 days
Product number:
NEST12332842K-003
Best Advice on Medical Products
Fast Delivery of available products
High quality brands
Purchase on Account
Product details of Nestle Resource Dessert Fruit
Nestle Resource® Dessert Fruit is a tasty, high-energy and protein-rich fruit dessert for fully-balanced diet for medical attendance of malnutrition or loss of appetite.
A high energy content of 164 kcal per 100g with 24g carbohydrates and 4g protein characterizes this high calorie diet. In addition, the food is almost fiber-free and therefore ideally suited for fiber intolerance. Our offer includes the flavors apple and apple peach in packaging sizes of 3 or 36 pieces.
Properties of Nestle Resource® Dessert Fruit
High energy (164 kcal per 100g)
pleasant consistency
high fruit content (38 - 42% depending on - flavor)
less lactose (<0.5 g per 100 g)
Fully balanced: suitable for exclusive nutrition;
Flavors: apple, apple peach
Packing sizes: 3 or 36 pieces
Applications of Nestle Resource® Dessert Fruit
disease related malnutrition
short bowel syndrome
intractable malabsorption
Nutritonal Information of Nestle Resource® Dessert Fruit
Energy: 164 kcal
Fat: 5,0 g (27 kcal%)
Carbohydrate: 24 g (59 kcal%)
Fibre: 0 g (0 kcal%)
Protein: 4 g (13 kcal%)
Salt: 0,15 g
sodium: 60 mg
Potassum: 160 mg
Phosphorus: 90 mg
Ingredients of Nestle Resource® Dessert Fruit
Water, maltodextrins, peach puree 10%, glucose-fructose syrup, milk protein, rapeseed oil, sucrose, minerals (calcium lactate, sodium hydrogen phosphate, potassium citrate, magnesium citrate,sodium chloride, sodium citrate, zinc sulphate, iron sulphate, sodium selenite, manganese sulphate, copper sulphate, sodium ­uoride, potassium hydrogen phosphate, chromium chloride, sodium molybdate, potassium iodide), thickener (E 440), ­avouring, vitamins (C, niacin, E, pantothenic acid, B6, B1, B2, A, folic acid, biotin, K, D, B12). Gluten free. Packaged in a protective atmosphere.
Tastes:  Apple-peach: Stewed apple 38.2%, , peach puree 10%,  apple: Stewed apple 42.5%
Manufacturer "NESTLE"
Nestlé Health Science is a subsidiary of the Swiss Nestlé group, which manufactures high-quality products in the medical nutrition sector. These are nutritional solutions for patients of different age groups and diseases. In our assortment you will find different types of drinking food or desserts for people with increased nutritional needs. These are suitable, for example, for administration in case of malnutrition or loss of appetite. In hospitals and nursing homes, these medical foods are used for targeted nutrition of sick or otherwise weakened patients.
More articles from NESTLE to look at