Ankle Joint Bandages to Support the Ankle Joints
If the ankle is injured, an ankle joint bandage is the ideal aid. It stabilizes the joint and still leaves enough freedom of movement. The ankle bandages from Medicalcorner24® are convincing due to the the following properties:
ideal fit

comfortable to wear
light weight

partly cooling effect
The ankle joint bandage can be worn both during sport and in everyday life. It serves as reinforcement and perfect support. Buy an ankle brace now! Read on here at the end of this page.
...


Everything About the Ankle Joint Bandage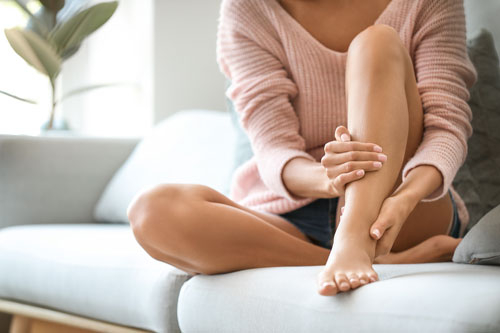 A bandage is particularly characterized by the material used. The knitting technology and the incorporated pads ensure that the ankle support fits perfectly. The ankle joint bandages are easy to put on using the Stabilo tape or Velcro fastener and can easily be removed again for showering or swimming.
With additional strap elements, you can determine the individual fit even better. In addition, this has a targeted pressure and thus massages the underlying tissue. This stimulates blood circulation and the metabolism. The fit counteracts twisting and sprains of the ankle.
When is an Ankle Joint Bandage Necessary?
The ankle joint bandage can be worn both in everyday life or only during sports training as an alternative to the classic sports tape. Athletes also use the bandages preventively to counteract sprains.
Furthermore, ankle joint bandages are used for:
sprains
to stabilize the joint
after operations and for regeneration
chronic or post-traumatic soft tissue irritation
to immobilize the joint
strains
in the event of a torn or stretched ligament
for swelling
for pain relief and acceleration of the healing process
Buy Ankle Joint Bandages at Medicalcorner24®
We carry ankle joint bandages in different sizes and designs, so you can be sure to find the ideal ankle brace for you. In addition to orthoses and other foot bandages in our online shop, we also carry:
With the right bandage, you can relieve pain and prevent sprains and discomfort such as twisting your ankle. The ankle joint bandage supports the foot in every movement and provides relief. The self-healing process is supported by the interaction with every movement of the ankle. Buy ankle joint bandages now at Medicalcorner24®!