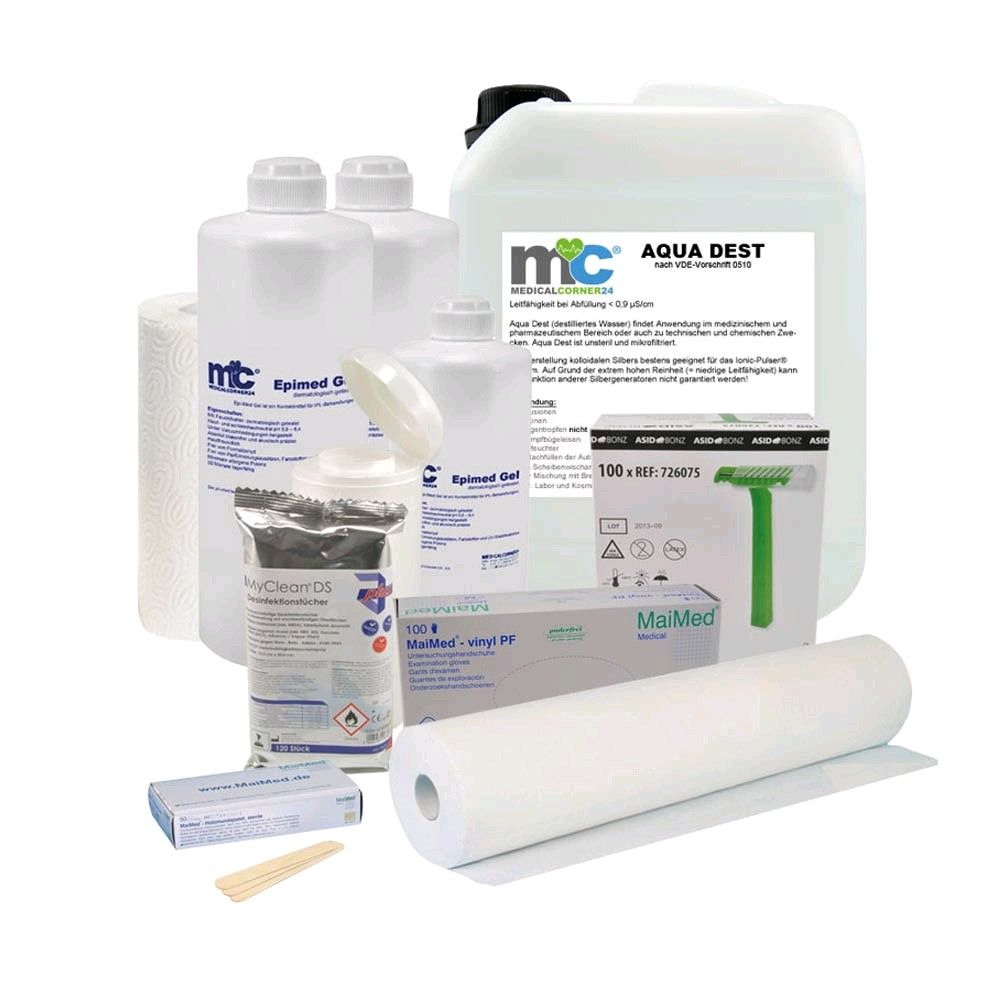 Available, delivery time: 3-5 days
Product number:
001-MC-IPL
Best Advice on Medical Products
Fast Delivery of available products
High quality brands
Purchase on Account
Product details for IPL Treatment Set
The IPL treatment set by Medicalcorner24® contains all items necessary for a professional laser hair removal.
The starter set is the optimal product for medical studios and beauty parlours, where laser hair removal is practiced.
Contents of the set:
5 x IPL gel 1 litre bottle
2 x IPL gel 500 ml bottle
1 x can with dsinfection wipes MyClean DS with 120 items
1 x package MaiMed Vinyl Gloves, size M, 100 items
1 x package non-sterile wooden tongue blades, 100 items
1 x package disposable razors, green, two blades, 100 items
1 x roll medical table covers, 50 cm x 50 m
1 x roll kitchen roll, 2 layers, 52 sheets, cellulose
1 x 5 litre canister Aqua Dest
Fields of application:
contact gel for laser hair removal per IPL
cosmetics
beauty parlours
Info – IPL gel:
contains humectants
skin and mucosa neutral pH 5,8 - 6,4
produced under vacuum condition
absolutely bubble free and acustically precise
gentle on the skin
without formaldehyde, perfume and colourants
UV-stabilizer, thus minimal allergenic potency
storable for 30 months
Info – MyClean DS:
ready to use
perfume-free and aldehyde-free
very gentle on the material
different flavours available
acts within 1 minute
120 items per package
VAH-listed
suitable for Haccp-traffic (only odourless version)
bactericidal including MRSA
tuberculocidal
levurocidal
effective against noro, rota, adeno and SV40 viruses
limited virucidal (HBV, HIV, HCV, BVDV, vaccinia, influenza and all enveloped viruses according to RKI-recommendations)
dries quickly
dispenser can: height: 18,5 cm, diameter: 9 cm (sold separately)
Info – Aqua Dest:
non-sterile
conductivity of <0,9µS when bottled
All products are separately available in our shop.
Manufacturer "MEDICALCORNER24"
Our company, based in Oer-Erkenschwick, has been registered as its own brand since July 2014. Since then we have been offering you high quality medical products from our own production. Our range includes isopropyl alcohols in concentrations of 70 percent and 99.9 percent, agents for surface disinfection, electrode gel and contact spray, IPL gel, distilled and double-distilled water as well as cleaning spray for ultrasonic probes. For the quick treatment of injuries and painful parts of the body, we offer adhesive plasters, cross-patches, cold-warm compresses, cold-immediate compresses as well as cooling gel and massage oil. You will also find filled first aid kits and matching refill sets in our own range.
More articles from MEDICALCORNER24 to look at
Discover other interesting items!